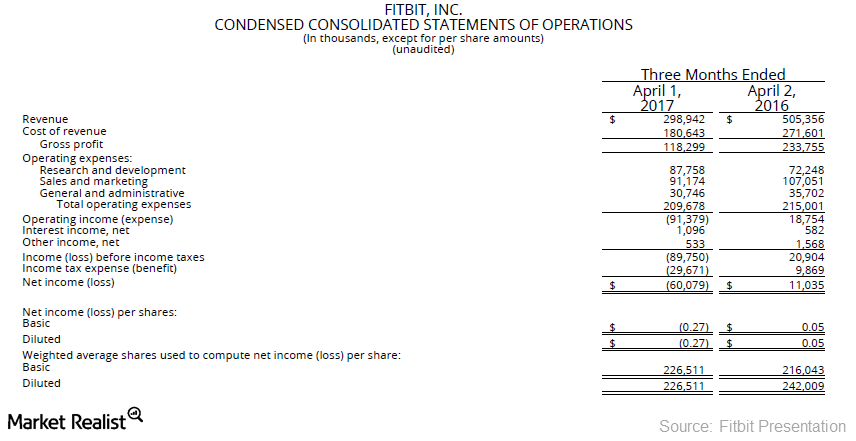 The Importance of Research and Development for Fitbit
By Adam Rogers

May. 25 2017, Updated 7:37 a.m. ET
Research and development rose 21.0% in 1Q17
As we saw in the previous part of this series, Fitbit's (FIT) revenue fell 40.0% YoY (year-over-year) in 1Q17. However, its investment in research and development (or R&D) rose substantially. Fitbit has placed a significant focus on R&D spending.
R&D expenditures rose 21.0% to $87.8 million in 1Q17 and accounted for 14.2% of revenue. R&D expenses made up 29.4% of revenue. In 2016, R&D expenses made up nearly 14.8% of revenue.
Article continues below advertisement
Why R&D is important for Fitbit
It's essential for technology (QQQ) product companies, including Apple (AAPL), Fitbit, and Garmin (GRMN), to invest heavily in product development in order to maintain market share. Consumer technology companies need to keep releasing new products in order to maintain consumer interest. Apple has launched two smartwatches since April 2015, and Fitbit launched the Charge 2 in August 2016.
In March 2017, Fitbit launched a new sleep-tracking device—the Alta HR. It tracks users' sleeping habits, providing insights that help customers make informed decisions about their health and fitness goals. The device is the world's slimmest heart-tracking device, and its battery can last up to seven days. Fitbit stock rose 5.0% on March 27, 2017, after the device was launched.
To ensure product development and customer satisfaction, a long-term focus on R&D remains a top priority for most companies, including Fitbit. Fitbit plans to allocate ~10.0% of its revenue to R&D in the long term.