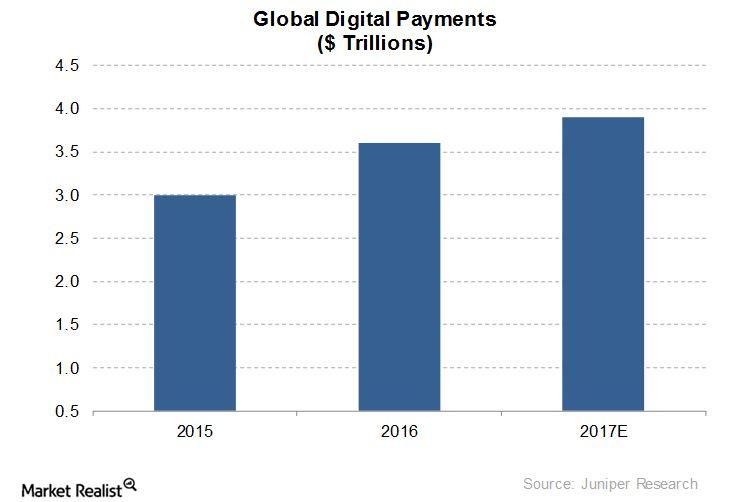 The Future for Alibaba's Ant Financial
By Neha Gupta

Nov. 20 2020, Updated 3:22 p.m. ET
Taking on the payments world
Alibaba Group Holding (BABA) is set to report its fiscal 4Q17 results at a time when it's been busy spreading and strengthening its influence in the global payments market. The upcoming results also come at a time when speculations are swirling that Alibaba could be gearing up to split its payment unit, Ant Financial, into a stand-alone entity through an IPO (initial public offering).
An IPO for Ant Financial would see Alibaba borrowing a script from the divorce of PayPal (PYPL) and its parent eBay (EBAY). Splitting from eBay freed up PayPal to do business with e-commerce companies that may have viewed it as a competitor when it was directly tied to eBay.
Alibaba's domestic rival JD.com (JD) also recently spun off its payment unit. These moves by its competitors could likely embolden Alibaba.
Article continues below advertisement
Clearing the air over Ant Financial's direction
In Alibaba's upcoming report, the market is hoping to get clarity on the value and future of Ant Financial. It will be interesting to see if Alibaba spins it off through an IPO or continues to hold it closely. The last financing round in 2016 valued Ant Financial at $60.0 billion.
The global digital payments market is projected to be $3.9 trillion this year, growing from $3.6 trillion in 2016, according to Juniper Research.
Can Ant Financial compete in a free market?
Ant Financial has also recently shown particular interest in spreading its influence abroad. It's doing that through a mix of strategies such as building alliances and investing in payment start-ups in markets such as South Korea and India. As part of strengthening its overseas presence, Ant Financial is in the process of acquiring electronic payments provider MoneyGram International (MGI) for $1.2 billion.
While the Chinese market is largely secure because of the government's protectionist regulations, investors have questions about Ant Financial's ability to compete with the likes of PayPal and Square (SQ) on the global stage. It's a question Alibaba is expected to answer in its fiscal 4Q17 results.