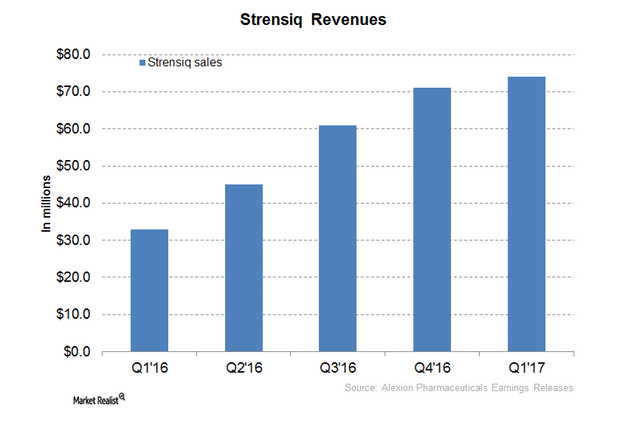 Strensiq: Key Growth Driver for Alexion Pharmaceuticals in 2017
By Daniel Collins

May. 31 2017, Updated 5:05 p.m. ET
Revenue trends
In 1Q17, Alexion Pharmaceuticals' (ALXN) Strensiq generated revenue of ~$74 million, which reflects ~4% quarter-over-quarter and ~124% YoY (year-over-year) growth. The company noted a consistent rise in demand from new patients. It expects Strensiq to be one of the major growth drivers in 2017.
Due to pricing and younger patients starting treatment, the company expects revenue per patient to be lower in 2017—compared to 2016. Alexion Pharmaceuticals is trying to offset the negative impact by securing reimbursement for the drug in more European countries.
Article continues below advertisement
In its 1Q17 earnings release, Alexion Pharmaceuticals reported significant progress towards a funding agreement for Strensiq with the National Institute for Health and Care Excellence and the National Health Service. The funding will help perinatal/infantile and juvenile-onset HPP (hypophosphatasia) patients in England get easy access to the drug, which will propel Strensiq's revenue growth.
About HPP
HPP is a condition that involves alkaline phosphatase deficiency. As a rare disease, HPP manifests as abnormal bone and teeth growth. Abnormalities in bones and teeth are primarily due to mutation of the TNSALP (tissue-nonspecific alkaline phosphatase) gene. Minerals such as calcium and phosphorus are required to strengthen bones and teeth. The enzyme TNSALP helps in the hydrolysis of PLP (pyridoxal 5'-phosphate) and PPi (inorganic pyrophosphate). TNSALP remains attached to the surface of chondrocytes and osteoblasts. When the number of TNSALP gets lowered at the surface of chondrocyte and osteoblast, PPi accumulates at the surface of the chondrocyte and osteoblast cells. It inhibits the development of hydroxyapatite—a major component of bone. In children and infants, a metabolic abnormality manifests into rickets and adults develop osteomalacia or soft bones.
About Strensiq
Alexion Pharmaceuticals' Strensiq (asfotase alfa) is the first therapy that treats HPP. Strensiq works based on the principle of enzyme replacement therapy. The drug replaces the deficient alkaline phosphatase and boosts bone mineralization.
Alexion Pharmaceuticals' peers in the orphan drugs market include BioMarin Pharmaceuticals (BMRN), Bluebird Bio (BLUE), and Horizon Pharma (HZNP). Strensiq's success might fuel the share prices of the iShares Nasdaq Biotechnology ETF (IBB). Alexion Pharmaceuticals accounts for ~3.1% of IBB's portfolio holdings.