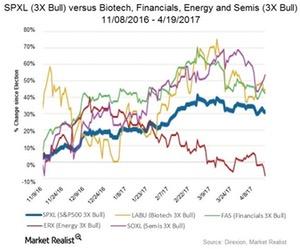 How Has the S&P 500 Fared Leading into Summer Months?
Direxion
Should you sell in May? A sector by sector Look
Every spring, pundits, analysts, and market makers come out with their "Sell in May, and Go Away" approach to the market. Some argue "yes," some argue "no," and some argue "it depends." And of course every year it does depend. It depends on the outlook for the economy, interest rates, potential regulatory changes, supply and demand, and how stocks and sectors have fared coming into the summer months. In this report, we will look empirically at how the market as a whole and different sectors have performed over the last 25 years to see what patterns have emerged. Investors can then look at the historical trends and tweak their expectations according to the aforementioned factors. For example, if an investor feels that Dodd-Frank, or parts of it, may be repealed, they may think that Financials will fare better than in the recent past. Direxion's Leveraged ETFs can help you bet on or against the seasonal trends in Semiconductors, Biotech, Energy, Financials, and more. First up: the S&P 500 as a whole.
Article continues below advertisement
The S&P 500 has done well leading into the summer months
The S&P 500 is up over 9.4% since the election (through April 19, 2017), which means that had you invested in Direxion's SPXL (3X Bull) ETF, you would be up more than 30%. But the other sectors except Energy are all positive as well. The Financial GIC has led the way with an eye-popping 11.7% gain, while Energy has lagged at -2%. Take a look at how the Direxion Leveraged ETFs have done since the election. [1.The performance data quoted represents past performance. Past performance does not guarantee future results. The investment return and principal value of an investment will fluctuate. An investor's shares, when redeemed, may be worth more or less than their original cost. Current performance may be lower or higher than the performance quoted. Returns for performance under one year are cumulative, not annualized. For the most recent month-end performance please visit the funds website at direxioninvestments.com.]
So we basically have an upward trending market coming into the summer months. Here is how the summer months perform on a monthly YoY basis for the S&P500:[2.Past performance is not indicative of future returns.]
So historically it does make sense to sell in May. Returns on a YoY basis have been negative on average for June-August. In contrast, the returns for the full year monthly numbers have been 0.64%. It may not sound like a lot, but it is the difference in the market on average being up ~7.5% in a year and being down. So if you do believe in the historical data, you could go with SPXS (3X Bear S&P500). If you think regulatory reform and lower taxes will drive markets higher, SPXL (3X Bull S&P500) could be for you.
Article continues below advertisement
Market Realist
US election has pushed stock market returns higher
The US stock market as depicted by the S&P 500 Index (SPY) (SPXL) (IVV) closed 2016 with gains of 11%. Higher corporate earnings and abating deflation fears drove this performance. The US presidential election and President Donald Trump's victory added another 5% on expectations of a better economy.
Since the election and heading into 2017, various sectors saw an increase in earnings benefitting mainly from Trump's administrative policies and reforms. The above table from Direxion Investments shows that summer monthly average returns of the S&P 500 are negative.
However, US equities could benefit from rising inflation and GDP growth as President Trump's policies and reforms target economic growth through higher infrastructural spending and lighter regulation. All of these factors could result in an increase in corporate earnings and stock market returns. The summer months look optimistic for the S&P 500.
Next, let's take a look at the sector-wise performance in summer months.