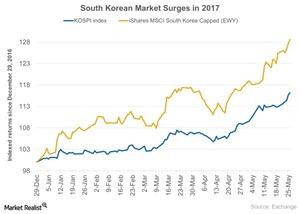 South Korean Stock Market Surges despite Geopolitical Tensions
By Mary Sadler

Nov. 20 2020, Updated 3:41 p.m. ET
Market performance in South Korea
South Korea's (EWY) stock market soared to a new high recently, posting large gains across the Asia-Pacific region (VPL)(EPP). The central bank of South Korea kept interest rates at a record low, boosting confidence in the economy. The cost of borrowing fell due to the low interest rates, thereby encouraging investment spending.
The South Korean stock market's recent performance also suggests investor confidence is improving with expected reforms by the country's newly elected president, Moon Jae-in. Let's look at how South Korea's benchmark index, the KOSPI (Korea Composite Stock Price Index), has performed over the last year.
Article continues below advertisement
Benchmark index performance
The KOSPI has gained ~16% so far in 2017. Tokyo's Nikkei 225 gained about 3% in the same period. Currently, Japan (EWJ) is revisiting the Trans-Pacific Partnership (or TPP). China (FXI) and South Korea (KOR) are keen to join the TPP, which has been sidelined by the United States (SPY). According to many experts, China aims to lead the TPP deal, looking to benefit from the US exit.
On the geopolitical front, South Korean markets seem to be unruffled by North Korea's recent nuclear missile launch. The approval rating of South Korea's President Moon is close to 80%, which is a positive development for its economy. South Korea's economy is struggling with low growth and high unemployment, which we'll discuss later in this series. The economy is also under pressure from household debt, which is likely to impact its economic activity if it continues to grow. However, if Moon Jae-in's economic reforms are implemented successfully, economic growth could be boosted.
The iShares MSCI South Korea Capped ETF (EWY) has gained about 29% so far in 2017. Samsung Electronics (SSNFY) makes up the largest proportion of EWY, at 22%. In the next article, we'll look at consumer confidence in South Korea.