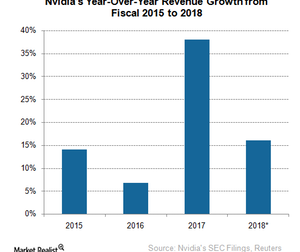 Some Analysts See Strong Growth Potential in Nvidia's Stock
By Puja Tayal

Updated
Some analysts are bullish about Nvidia's stock 
According to a report in Benzinga, Citi analyst Atif Malik acknowledged that the above concerns on PC gaming may slow down Nvidia's (NVDA) strong growth in the short term, but it would not stop growth in the long-term. Citi estimates that the gaming market will grow at a CAGR (compound annual growth rate) of 19% through 2020.
Malik noted that Nvidia's fiscal 2017 gaming revenue was driven by strong demand in emerging markets, renewed demand for advanced GPUs (graphics processing unit) created by new gaming consoles, and an increase in Nvidia's market share. As Advanced Micro Devices (AMD) makes a comeback in the high-end market, Nvidia will likely have difficulty gaining market share. However, this factor shouldn't dilute the latter company's other two growth drivers.
Article continues below advertisement
Nvidia expands in faster-growing markets 
Nvidia's management has been quick to identify growth opportunities beyond gaming and has witnessed strong growth in the AI (artificial intelligence) and autonomous car markets. It's also exploring growth opportunities in the smart home and drone markets. Some analysts expect Nvidia's earnings to grow 16% in fiscal 2018.
According to a report in Benzinga, Argus analysts believe Nvidia's stock has room for "significant" appreciation as it expands in the fast-growing markets. Goldman Sachs analyst Toshiya Hari and B. Riley analyst Craig Ellis are also bullish on Nvidia and have set a price target of $130 and $135, respectively.
B. Riley
According to a report in Smarter Analyst, Craig Ellis is bullish on Nvidia as he believes that the company's recent developments in the automotive, AI, and gaming markets were sidelined by Intel's (INTC) announcement that it would acquire Mobileye (MBLY) for $15.3 billion. This acquisition not only gives Intel a 70% share in the ADAS (advanced driver assistance systems) market but also gives it a strong position in the autonomous car market.
Meanwhile, Nvidia has entered into a partnership with Germany's (EWG) Bosch to release an automotive-grade system powered by the former's Xavier platform in 2018. This partnership should expand Nvidia's technology reach beyond high-end electric cars, into the mainstream automotive market. Craig Ellis said, "We believe Xavier's power and performance could lead the industry for years to come."
While Nvidia is growing in other markets, gaming continues to be its largest market—and the market wherein it holds a dominant market share. Below, we'll examine the factors that have affected Nvidia's gaming revenue.