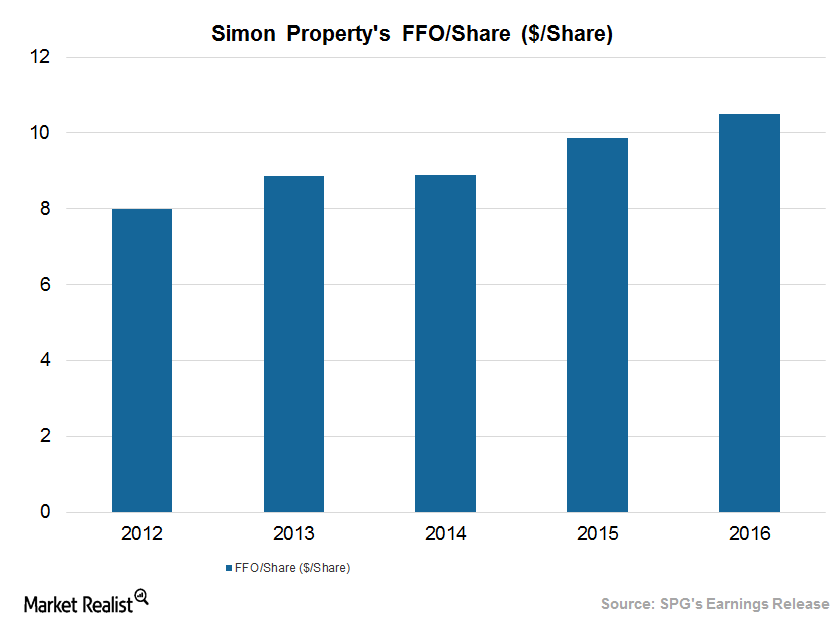 Simon Property Group: A Growth Story amid Tremors in REITs
2017 expected performance
Many mall owners are selling off their properties to lenders as more retail behemoths are scrapping their square footage by way of store closures. These owners have been unable to cope with the increasing popularity of online buying.
However, Simon Property Group (SPG) kept its earnings streak alive in fiscal 2016. The company has also started fiscal 2017 on a strong note.
Article continues below advertisement
Growth
In fiscal 2016, Simon Property Group (SPG) was successful in achieving a compound annual funds from operations (or FFO) growth rate of more than 10% over the last five years. The company's occupancy rate for its malls and premium outlets reached 96.8%, which was 70 basis points higher than at the end of fiscal 2005. The company's FFO is estimated to grow at a rate of 8.5% in the next 12 months.
A bright beginning to fiscal 2017
Simon Property Group reported 1Q17 earnings per share (or EPS) of $1.53 on April 27, 2017, a 2% beat of the consensus estimate of $1.50. Earnings also rose 4% year-over-year, mostly due to higher revenues. Simon Property Group's FFO was $2.74 per share for 1Q17, higher than $2.63 per share reported in 1Q16.
The company's revenues of $1.35 billion were slightly lower than the consensus estimate of $1.37 billion. However, revenues surpassed the mark of $1.34 billion in 1Q16. The company's revenue growth was driven by an improved base minimum rent per square foot and leased spread per square foot.
Article continues below advertisement
Although the minimum base rent per square foot gained 4.4% year-over-year, the leasing spread per square foot for the trailing 12 months ended March 31, 2017, rose 13%. However, its occupancy rate remained unchanged at 95.6%. Retailer sales per square foot for the malls and outlets expanded 30 basis points, mostly due to strong retail sales resulting from higher shopping volumes during the Easter holiday.
Simon Property Group's operating income fell 1.2% to $676.7 million due to higher operating expenses incurred during the quarter. Its total portfolio net operating income (or NOI) rose 5.6% year-over-year. For REITS, the total NOI incorporates inorganic expansions, domestic investments, and international investments.
The momentum to continue
Analysts believe that the current quarter could be a strong one for Simon Property Group (SPG). Analysts expect SPG to report EPS of $1.53, up 5.5% from 1Q16. The company's FFO is expected to be $2.79 per share, up 6.1% year-over-year.
Below, we can see how Simon Property Group could perform in terms of FFO estimates over the next three years.
Major competitors of Simon Property Group in the regional mall REIT space include:
Chicago-based General Growth Properties (GGP)
California-based Macerich (MAC)
Michigan-based Taubman Centers (TCO)
Investors looking for exposure to commercial real estate can invest in REIT ETFs. Simon Property and Public Storage make up ~6.3% of the Vanguard REIT ETF (VNQ).
In this series, we'll look into SPG's growth outlook, the impact of higher interest rates, balance sheet strength, shareholder payouts, and valuations.