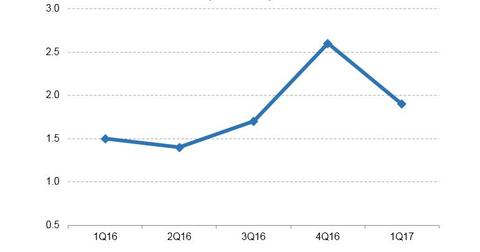 Should Amazon Build or Rent Shipping Infrastructure?
By Neha Gupta

Updated
Shipping costs on the rise
Amazon (AMZN) is struggling with high shipping costs, which have been on the rise in recent years. This rise explains why Amazon is investing billions of dollars (UUP) in building its own delivery infrastructure instead of relying on usually expensive and sometimes inefficient third-party services.
Article continues below advertisement
Shipping costs surge 30%
Amazon hires delivery services from United Parcel Service (UPS) and FedEx (FDX), among other providers. The company reported that its net shipping costs were $7.2 billion in 2016, up 43.0% from a year earlier. In its most recent quarter, Amazon's net shipping costs rose 30.0% to $1.9 billion.
As part of the company's efforts to take control of its delivery system, it's investing ~$1.5 billion in building its own air cargo hub in the United States (SPY).
To build or to rent?
But what would be the best approach for Amazon? Should it build its own delivery infrastructure or just rent it? Looking at where the retail industry is going, building the infrastructure rather than renting it seems to be the company's best bet.
According to the National Retail Federation (or NRF), the US online retail market should expand at a rate of 8.0%–12.0% this year, implying three times faster growth than the overall retail industry. Furthermore, e-commerce makes up only ~8.3% of the total US retail market, implying an enormous growth opportunity as more retail business comes online.
By taking control of its delivery system, Amazon will not only save more in terms of costs but also reduce the incidences of delayed orders.