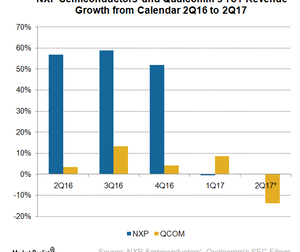 Qualcomm's Merger with NXP: A Win-Win Deal for Both Parties
By Puja Tayal

Updated
What led to Qualcomm-NXP merger?
Qualcomm (QCOM) is acquiring NXP Semiconductors (NXPI), which could expand the former's exposure beyond communications and into automotive and security solutions. The acquisition could create the world's third-largest semiconductor company after Intel (INTC) and Samsung (SSNLF).
However, the acquisition could also pose an integration challenge to Qualcomm, as there's little overlap of products, and the business models of both companies are different. So why is Qualcomm keen on acquiring NXP?
Article continues below advertisement
Why is Qualcomm acquiring NXP?
In Qualcomm's business model, it earns 87% of its profits from QTL (Qualcomm Technology Licensing) and only 13% from QCT (Qualcomm Code-Division Multiple Access Technology). In 2017, its key customer Apple (AAPL) and several countries' regulators ganged up on its licensing model.
Moreover, a slowdown in the Smartphone market has hit Qualcomm's chipset revenue, which accounts for more than 60% of its total revenue. The company has been searching for alternative revenue sources for quite some time, but its growth in adjacent markets has been slow due to strong competition from incumbents such as NVIDIA and Texas Instruments.
The acquisition of NXP could jump-start Qualcomm's initiatives in the automotive, IoT (Internet of Things), and digital networking spaces and increase its chipset business by 40%. NXP's higher operating margin could also improve QCT's profit margins and help Qualcomm to offset any falls in its QTL segment.
Article continues below advertisement
Why did NXP agree to be acquired?
On the other hand, NXP has been facing slowing revenue due to weakness in its SIS (Secure Identification Solutions) business. The company has been avoiding businesses in which its competitors are pricing irrationally. However, its automotive revenue has been growing and is likely to continue to grow significantly once autonomous cars hit the road.
A merger with Qualcomm would give NXP brand recognition, scale, digital computing, and wireless connectivity technologies. Qualcomm has a strong say in setting industry standards, and its brand could help NXP to play a key role in setting standards for autonomous cars. Moreover, NXP will gain access to Qualcomm's research efforts, which could accelerate the company's development of new products and make it competitive.
Combined company
Canaccord Genuity anticipates the NXP acquisition to increase Qualcomm's non-GAAP (generally accepted accounting principles) EPS (earnings per share) by ~15% in 2018. The benefits of the acquisition are expected to offset any falls in Apple's royalty payments. 
Assuming Apple succeeds in reducing Qualcomm's royalty fee by 40%, Canaccord Genuity's expects Qualcomm's and NXP's pro forma non-GAAP EPS estimates for 2018 to remain unchanged at $4.84 and $5.80.
Next, we'll see how the NXP merger could change QCT's earnings.