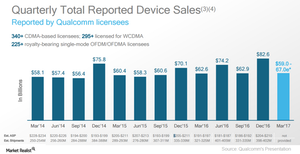 Qualcomm Technology Licensing: the Good, the Bad, and the Ugly
By Puja Tayal

May. 22 2017, Updated 10:35 a.m. ET
Qualcomm Technology Licensing's fiscal 2Q17
Qualcomm's (QCOM) revenue and profits will likely be hit in fiscal 3Q17 as the legal troubles surrounding its licensing business increase. In fiscal 2Q17, QTL's (Qualcomm Technology Licensing) revenue rose 5% YoY (year-over-year) and 24% sequentially to $2.3 billion, almost in line with analysts' estimate of $2.2 billion.
QTL's earnings improved because the full impact of the legal headwinds was yet to come. Moreover, lower royalty payments from disputed cases were more than offset by record high TRDS (total reported device sales), higher ASPs (average selling price), and improved licensing in China (MCHI). Qualcomm won the licensing dispute with China's Meizu and secured licensing deals with the top ten Chinese handset makers.
Article continues below advertisement
Legal issues surrounding licensing 
On Qualcomm's fiscal 2Q17 earnings call, its president, Derek Aberle, said that one licensee underpaid royalties worth more than $150 million by underreporting its December 2016 quarter sales. The company didn't reveal the name of the licensee, but it stated that it was looking to resolve the dispute. There's the possibility of more underpaid royalties to come from this licensee in fiscal 3Q17.
In another case, Qualcomm had to refund $850 million in prepaid royalties to BlackBerry (BBRY) under a binding arbitration ruling. Qualcomm has also seen an ongoing licensing dispute with Apple (AAPL), under which it's seen underpaid royalties to the tune of $1 billion—the amount Apple claims Qualcomm has withheld under a cooperation agreement that ended on December 31, 2016.
Qualcomm earns royalties on iPhones through Apple's contract manufacturers. Apple underpaid its manufacturers, who, in return, underpaid Qualcomm. However, these underpayments didn't affect the chip supplier's fiscal 2Q17 earnings, as manufacturers reported underpaid royalties as liabilities that would be paid at a future date.
Article continues below advertisement
Total reported device sales
The fiscal second quarter is a seasonally strong one for QTL, as it receives royalties on its Smartphones sold in the fiscal first quarter. The company reported a record high TRDS of ~$82.6 billion in fiscal 2Q17, representing a YoY rise of 18%. This growth was driven by increasing sales of 3G (third-generation) and 4G (fourth-generation) devices, improved reporting by Chinese handset makers, and higher ASPs.
According to Qualcomm's estimates, ~400 million devices were shipped in fiscal 2Q17, 337 million more devices than were shipped in fiscal 2Q16. The company believes that shipments increased because Chinese companies were building inventories for anticipated demand in 1H17. As distributors are stocking up on inventory in advance, 1H17 shipments could be pushed to 2H17.
However, legal issues could affect QTL's fiscal 3Q17 earnings. Next, we'll look at QTL's guidance.