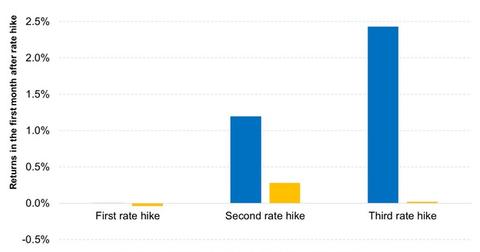 How to Protect Your Portfolio from Rising Interest Rates
By VanEck

Updated
VanEck
KEMMERER: These are some very tangible ways to reorient in a rising rate environment. Ed, can you give us your perspective?
ED LOPEZ: At VanEck, we offer a number of different ETF solutions for investors to target rising interest rates. One might be on the credit side on the high yield space or our fallen angel high yield bond ETF (ANGL). On the opposite side of the spectrum is an interesting credit opportunity with short duration is our investment grade floating rate note ETF (FLTR). I think we offer several very interesting options for investors to target income in their portfolio to target and also manage the increase in interest rates.
KEMMERER: Ed, VanEck recently won ETF.com's "ETF of the Year" award for ANGL, so tell us more about this strategy.
Article continues below advertisement
LOPEZ: Our fallen angel high yield bond fund ANGL is one of my favorite strategies. It basically provides exposure to high yield bonds that were once investment grade. These bonds were initially investment grade but for some reason, they have fallen on hard times and their credit rating was downgraded. That's when this Index picks them up and ANGL picks them up as well. What happens is investment grade investment managers are forced to sell these bonds because of their mandate. This creates a valuation opportunity, or valuation disconnect. When we launched this ETF in 2012 the Index already had a long history of consistent outperformance of the broad high yield bond space, and over the last five years since we've ANGL, its investment thesis has been proven.
KEMMERER: Fran, can you tell us a bit more about the success of the strategy?
RODILOSSO: I think an interesting aspect of this strategy is how bonds tend to get cheaper going into these downgrades right before they enter the Index. The good news we've noticed, since the launch of the Index and also since the launch of ANGL, is that fallen angels tend to be lagging indicators. In other words, sometimes the ratings agencies are a little bit behind the curve not just on individual issuers but on entire sectors. We saw that most recently in early 2016 when there was a big wave of downgrades in the energy space and some in the mining space. These sectors became two of the largest weightings in the ANGL portfolio, and this happened just as commodity prices were bottoming out. You know there is some intelligence to the construction of that Index.
The above graph compares the performances of two low duration ETFs—the VanEck Vectors Fallen Angel ETF (ANGL) and VanEck Vectors Investment-Grade Floating Rate ETF (FLTR)—during the month after rate hikes in December 2015, December 2016, and March 2017. While the returns weren't very high, they were positive in most cases. These ETFs could offer a cushion to your portfolio when interest rates rise, along with decent yield.
ANGL consists of high-yield bonds that were initially investment-grade. High-yield bonds usually do well when the economy is improving. Rates usually rise when the economy is doing well and there's a risk of high inflation. It's intuitive why high-yield bonds outperform when rates rise.
FLTR isn't impacted much by interest rate hikes because the coupons on the bonds keep changing periodically. FLTR has an effective duration as low as 0.14 years because its coupons match interest rates. Other bonds (LQD) have fixed coupons rates—they're susceptible to interest rate hikes.