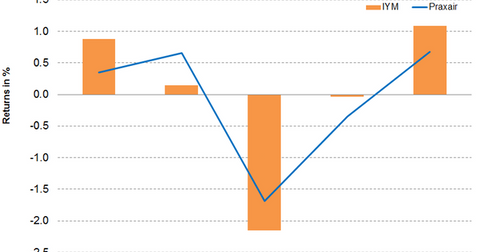 Praxair Introduces XactCO2 for Bars and Restaurants
By Peter Neil

Updated
Praxair introduces new product
On May 15, 2017, Praxair's (PX) subsidiary NuCo2 announced the launch of XactCO2, a high-pressure carbon dioxide cylinder that can be mounted to any wall. The product caters to the needs of restaurants and bars. The new product features a cylinder that mounts on an inside wall and connects to a small fill box outside the facility. The cylinder can be filled from a truck at a scheduled regular period by NuCo2 service representatives, thereby eliminating the manual monitoring and replacing of cylinders.
Article continues below advertisement
Gerald Miller, president of NuCo2, said, "We are very pleased to be rolling out this innovative beverage system that supports our customers with features that are not available today. In addition to offering customers reliability and convenience, in some cases, customers have saved thousands of dollars when compared to their prior installations. Simply put, the XactCO2 HP fill system makes our customers' jobs easier while helping them increase their bottom line – a true win-win solution."
Praxair stock performance for the week ended May 19
For the week ended May 19, 2017, PX closed at $129.23, falling 0.40% for the week. PX stock traded 8.0% above the 100-day moving average of $119.70, indicating an upward trend in the stock. On a year-to-date basis, PX has risen 10.3%.
With a 14-day RSI (relative strength index) of 65, PX is neither overbought nor oversold. An RSI of 70 indicates that a stock is overbought, and a score of 30 suggests that a stock is oversold. PX's 52-week low is $106.31, and its 52-week high is $131.74. PX underperformed the iShares US Basic Materials (IYM), which fell 0.10% for the week ended May 19, 2017.
IYM invests 6.2% of its holdings in Praxair. Some of its other top holdings include Dow Chemical (DOW), DuPont (DD), and Monsanto (MON), which have weights of 11.5%, 11.3%, and 8.6%, respectively, as of May 19, 2017.