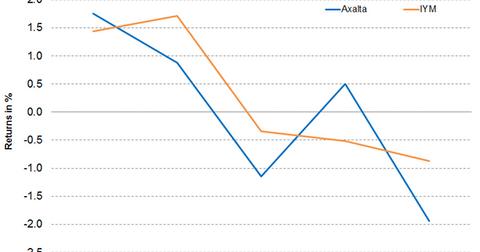 Opel Signs Deal to Use Axalta's Premium Brands in Its Body Shops
By Peter Neil

Updated
Axalta-Opel deal
On April 27, Axalta (AXTA) announced that Opel had agreed to use Axalta's three global premium refinish brands, Cromax, Spies Hecker, and Standox, in all Opel dealers and body shops in Belgium and Luxembourg. Opel approved the brands after intensive tests to ensure that all three refinish brands met Opel's requirements.
Axalta's business development manager, Stefan Van Geert, said, "This new agreement strengthens our relationship with Opel. Cromax, Spies Hecker and Standox share common goals of innovation and continuous improvement, while their respective products and services can help to deliver more efficient body shops and ultimately more satisfied vehicle owners."
Article continues below advertisement
Axalta's stock performance last week
On April 28, 2017, Axalta closed at $31.37 and remained flat for the week. The iShares US Basic Materials (IYM), which holds 1.1% in AXTA as of April 28, 2017, outperformed AXTA with a return of 1.4% for the week and closed at $89.03.
AXTA's peers Sherwin-Williams (SHW), PPG Industries (PPG), and RPM International (RPM) rose 3.1%, 3.7%, and 1.3%, respectively. However, despite remaining flat, AXTA stock traded 6.0% above its 100-day moving average of $29.51, indicating an upward trend.
Analysts expect AXTA's 12-month target price to be $33.94, implying a potential return of 8.2% over the closing price on April 28, 2017. Year-to-date, the stock has returned 15.3%. AXTA's 52-week low is $24.27, and its 52-week high is $33.06.
The 14-day RSI (relative strength index) of 49 indicates that the stock is neither overbought nor oversold. An RSI of 70 and above indicates that a stock is overbought, while an RSI of 30 and below indicates that a stock is oversold.