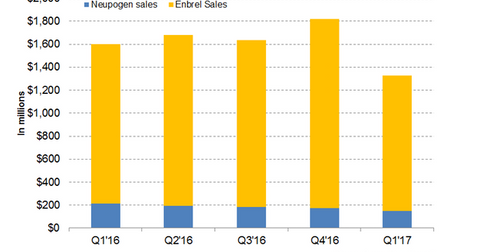 Neupogen and Enbrel Could See Falling Revenues in 2017
By Daniel Collins

Updated
Neupogen and Enbrel revenue trends
In 1Q17, Amgen's (AMGN) Neupogen sales fell 31% year-over-year and 14% quarter-over-quarter. In 1Q17, Neupogen generated revenues of ~$148 million, a significant drop from the drug's 1Q16 revenues of ~$213 million.
In 2016, the drug generated net sales of ~$765 million, which was a sharp 27% decline from ~$1.0 billion in 2015. The sudden decline in sales was driven by the entry of biosimilars in the US and Canada. During 2017, intense competition is expected to affect Neupogen's sales volume.
Article continues below advertisement
In 1Q17, Amgen's Enbrel generated sales of ~$1.2 billion, which was a 15% year-over-year decline. IMS Health prescription data indicated lower prescription rates for the company's Rheumatology and Dermatology segments in the first few weeks of the quarter. This trend primarily accounted for the fall in the drug's sales.
Amgen expects Enbrel's sales volume to rebound in 2017. However, if Enbrel's sales do not recover, Amgen's product revenues could face a modest decrease.
Neupogen and Enbrel face tough market competition
Neupogen (filgrastim) is a form of granulocyte colony-stimulating factor (or G-CSF) that helps reduce the possibility of infection due to low white blood cells in patients with certain types of cancer and who are undergoing chemotherapy.
Neupogen boosts the growth of neutrophils. Neupogen faces tough competition from Teva's (TEVA) Granix, Novartis's (NVS)[1. through its subsidiary Sandoz] Zarxio, and a range of other filgrastim biosimilars.
Enbrel (etanercept) is indicated for rheumatoid arthritis, plaque psoriasis, psoriatic arthritis, ankylosing spondylitis, and juvenile idiopathic arthritis. This was one of Amgen's first blockbuster drugs. Enbrel faces tough competition from Johnson & Johnson's (JNJ)[2. through its subsidiary Janssen Biotech] Remicade and Stelara, as well as AbbVie's (ABBV) Humira.
In the next article, we'll discuss Amgen's proteasome inhibitor, Kyprolis.