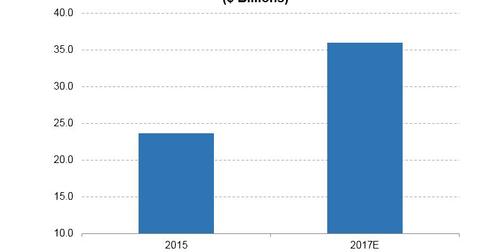 Millennials or Gen X—A Look at Snapchat's User Engagement
By Neha Gupta

Updated
Snapchat intrigues mature consumers
If a recent survey is anything to go by, Snapchat could be losing its "cool factor" among Millennials. Jefferies' study of Snapchat's demographics and user engagement noted a surge in the number of people in their 30s and 40s who are active on the app. Snapchat, the disappearing photo app owned by Snap (SNAP), is generally considered a Millennial app.
About 25% of surveyed adults aged 35–44 reported increasing their usage of Snapchat and Instagram, a Facebook (FB) property, in the last six months. Focusing on Snapchat, 19% of the users aged 35–44 reported specifically increasing their usage of Snapchat in the cited period.
Article continues below advertisement
Higher purchase power
However, this development presents a paradox for Snap. Consumers belonging to Generation X, who are aged 35–50, tend to have more disposable income than Millennials, resulting in higher purchasing power. As such, they are an appealing customer base to advertisers seeking to drive sales. 
In our view, Gen Xers could help Snap grow its revenues more rapidly. Capturing these consumers would allow Snap to improve its advertiser ROI (return on investment), leading to increased advertising on Snapchat.
Risk of losing identity
However, Snapchat was designed for younger people. As older consumers adopt Snapchat, this could cause teen users to flee the app. This user migration to older users could indicate that the app is losing its identity. That could create room for a more Millennial-oriented rival to take Snapchat's place, hurting Snap's efforts to differentiate itself from rivals Facebook, Twitter (TWTR), and Alphabet's (GOOGL) Google.
Losing its youthful edge could complicate Snap's ability to draw marketers who are specifically interested in pitching to Millennials, a coveted customer base to fashion brands such as Forever 21 and Macy's (M).