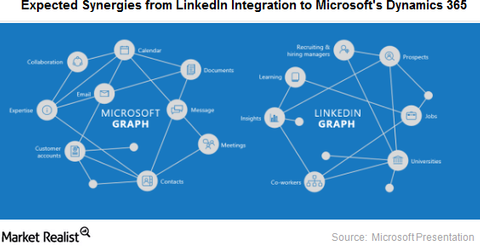 Could Microsoft Pose a Threat to Salesforce?
By Anne Shields

Updated
Microsoft works to thwart Salesforce's dominance in CRM space
Earlier in this series, we learned how Salesforce's (CRM) Sales Cloud is crucial to its growth, especially when competition is at its peak in the CRM space. As in the SaaS space, Salesforce could lose its lead to Microsoft (MSFT) in the CRM space.
Following in the footsteps of its peer Amazon (AMZN), Microsoft chose the price cut strategy to thwart Salesforce's dominance in the CRM space.
In an April 2017 Microsoft blog post, Scott Guthrie, the tech giant's executive vice president of the Cloud and Enterprise Group, announced the availability of "LinkedIn Sales Navigator and Dynamics 365 for Sales at about half the cost of competitive solutions in the market, available in July."
Article continues below advertisement
LinkedIn boosts Microsoft's Dynamics 365 prospects
LinkedIn is Microsoft's largest acquisition to date. Its integration with Microsoft's offerings, especially Dynamics 365, would benefit the company's offerings, as the above chart shows. LinkedIn enabled Microsoft to redefine social sales through the fusion of Sales Navigator and Dynamics 365.
LinkedIn gave Microsoft access to large data sets, which are essential to the development of AI (artificial intelligence). Gartner expects global IT spending to grow 1.4% to $3.5 trillion in 2017 on the back of the confluence of cloud computing with emerging digital technologies like AI and blockchain.
Microsoft's Dynamics 365 boasts various AI features that integrate with ERP (enterprise resource planning), CRM, and supply chain software. Morgan Stanley (MS) views data as the "holy grail of AI."
Citing a field survey conducted by Jefferies Group, in late 2016, the Wall Street Journal reported that Microsoft Dynamics 365 was priced lower than Salesforce's comparable offering. Salesforce and Microsoft cater to a price-sensitive market, and Microsoft Dynamics 365 has the edge over Salesforce.
Since Microsoft trails Salesforce in market share by a wide margin (18+% for CRM versus <2% for MSFT), Microsoft is pursuing a strategy to make further share gains by discounting/bundling.
Correction:  This was the original text replaced by the last sentence. "By resorting to price cuts, Microsoft is aiming for the top position in the price-sensitive CRM space."