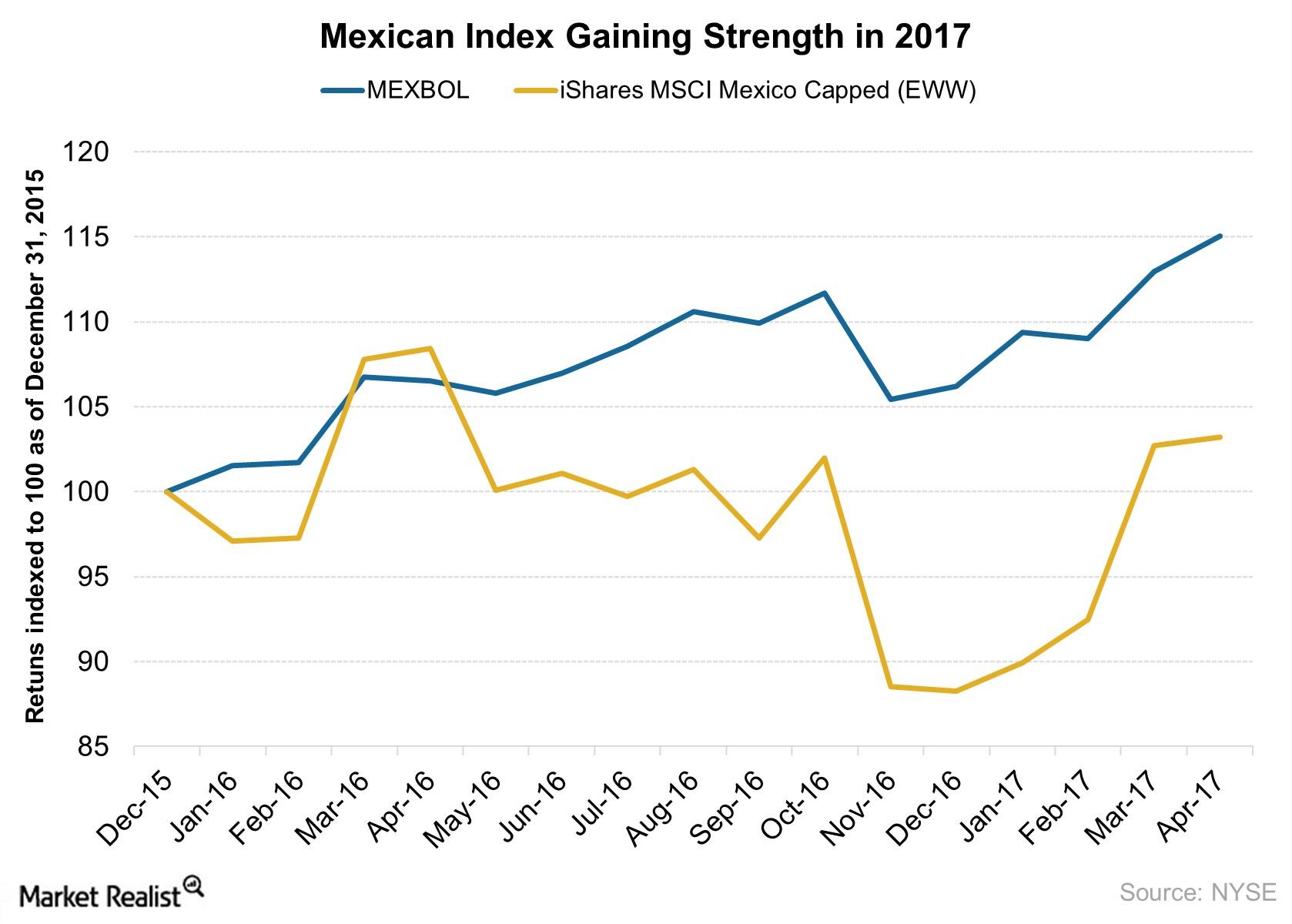 How Mexican Markets Are Rolling with Trump's Anti-Trade Rhetoric
By Mary Sadler

Nov. 20 2020, Updated 1:08 p.m. ET
President Trump's anti-trade rhetoric
In 2016, President Trump campaigned hard against NAFTA (North American Free Trade Agreement), a trade deal between the US (SPY), Canada (EWC), and Mexico (UMX) that took effect in 1994, blaming the deal for the loss of American manufacturing jobs (IYJ) and the rising US trade deficit. For this reason, after Trump's election win in November 2016, Mexican equities fell.
Article continues below advertisement
Mexican equities' performance in 2016
As you can see in the chart, the Mexican benchmark index has gained about 6% in 2016. The iShares MSCI Mexico ETF (EWW) fell about 12% in 2016. You can see a significant drop in Mexican equities after the election in the above chart, with the Mexican benchmark index, MEXBOL, and EWW recording losses of about 7% and 17%, respectively, between November 8 to November 11, 2016. President Trump's anti-trade rhetoric impacted the market sentiment, pushing Mexican equities down in 2016.
During his election campaign, Trump also promised that he would build a wall along the southern border of the US to prevent illegal immigration in the US from Mexico. This had sparked concern in the minds of investors about the deteriorating relationship between the US and Mexico under the new Republican administration.
Mexican ETF performances in 2017
However, markets seem to have overcome Trump's anti-trade rhetoric by this point in 2017, likely in the wake of the lost confidence in Trump's ability to implement the policies he so adamantly swore to implement in 2016. The MEXBOL is now recovering, with gains of about 8% in 1Q17. To be sure, the recent assurance by the Trump administration that the US would stay in NAFTA has regained the confidence of investors in the stability of US-Mexico relations.
Notably, the iShares MSCI Mexico ETF (EWW) has gained nearly 17% in 1Q17. Some of EWW's holdings include America Movil SAB (AMX), Fomento Economico Mexicano SAB (FMX), Grupo Financiero Banorte SAB (GBOOY), and Cemex SAB (CX).
To learn more, be sure to read Market Realist's How Trump's Victory Could Affect Europe and BRIC Nations.