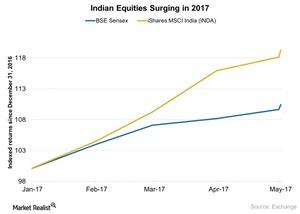 Why Markets in India Are Scaling New Heights in 2017
By Mary Sadler

Updated
Equities performance in India
India's stock market (INDA) (EPI) seems to be reflecting several positive macroeconomic factors in its 2017 performance. India's equity markets are soaring year-to-date, pushing valuations above their long-term averages. India's economy is scoring well on several macroeconomic factors, including:
high GDP growth
favorable inflationary trend
demographic dividend of high working-age population
positive government outlook for reform and divestment
Let's look at the stock market performance of India's benchmark index, the BSE Sensex, versus the iShares MSCI India ETF (INDA) in the chart below:
Article continues below advertisement
Index performance
The BSE Sensex crossed the psychological mark of 30,000 in April 2017. The last time it had crossed this historical mark was in March 2015. BSE Sensex has gained ~10% year-to-date through May 18, 2017.
Markets are believed to be on an uptrend due to the broader positive corporate earnings trend. Consumer confidence is also elevated due to several reforms implemented by Prime Minister Modi's administration.
Reforms in India in 2017
The overwhelming win of India's existing government in the key state of Uttar Pradesh points to the faith of people in the current government. It also endorses the highly publicized demonetization move that occurred in November 2016.
The country's economic reforms include the ongoing digital transition and the Goods and Services Tax (or GST), which is expected be rolled out by July 2017. These reforms are expected to provide a significant boost to economic activity.
Article continues below advertisement
India's government seems to be more resolute with respect to its reformist policies, which are aimed to improve India's ranking in the global ease of doing business index. Currently, India ranks 130 out of 190 nations in ease of doing business through October 2016. The ease of doing business index is created by the World Bank Group, with a higher ranking indicating better and simpler regulations for businesses.
Investment impact of reforms
Many nations in emerging markets are currently going through major economic reforms, including Argentina (ARGT), Chile (ECH), and India (EPI). These reforms are expected to drive their economic performance and boost their market performance.
The iShares MSCI India ETF (INDA) has gained ~19% year-to-date through May 18, 2017. The other relevant index, the Nifty 50, also surpassed the 9,500 mark in April 2017 and gained about 10% during the same period. The major stock gainers in April include Tata Steel, Tata Motors, ICICI Bank (IBN), and Hindustan Unilever.
Let's look at the sector-wise performance in India's markets in 2017 in our next article.