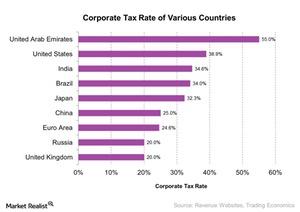 Cuban: Simplification of Tax Structure Will Have a Greater Impact
By Sarah Sands

Updated
Market since the US election
Since the US election, the market (SPX-INDEX) (SPY) has shown huge improvements. Various US indexes (IWM) such as the S&P 500 Index, the Dow Jones Industrial Average (DIA) (DJIA-INDEX), and the NASDAQ Composite Index (COMP-INDEX) have shown huge momentum.
Proposed tax restructuring, deregulation, and fiscal stimulus have been important factors driving the market's movements. In March 2017, major US indexes showed falls in performance as President Donald Trump's huge efforts to pass a healthcare bill in Congress ended in failure. Now the government is focusing on a tax restructure bill. Many investors are closely following these developments.
Article continues below advertisement
Mark Cuban on the tax bill
Billionaire Mark Cuban believes this tax restructure bill could take time to pass in Congress. If the tax structure is simplified, we may see a greater impact on the economy (VOO) (IVV), which could post a record expansion after this step.
According to Cuban, the single most important thing for the economy and the market is the government's proposed corporate tax deduction. President Donald Trump said during his campaign that if he were elected, he would slash the corporate tax rate from 35% to 15%. If the corporate tax is lower, companies' net earnings after tax will be higher, helping businesses to expand their capabilities, invest in new projects, and ultimately increase shareholder value.
For more information, you may want to read The S&P 500 Index Saw Slight Improvement in April: What's Next?