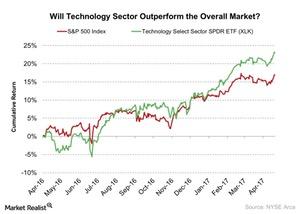 Why Mark Cuban Is Optimistic about the Technology Sector
Mark Cuban on technology stocks
Cuban has a great love for technology stocks. He believes that the technology sector (XLK) has the potential to provide strong growth in the economy (QQQ) (SPY).
The use of technology is increasing gradually in the economy, and people are becoming more system dependent. Many technology companies are providing services for cloud-based computing systems. Various companies are using cloud-based computing to smooth their workflows.
Article continues below advertisement
Will artificial intelligence play a major role in the technology sector?
Cuban believes that artificial intelligence will play a major role in the technology sector. It's an intelligence system that automatically recognizes environments and takes actions to reach its goals. The system aims to enhance productivity, which should increase companies' profitabilities.
Cuban also believes that advances in artificial intelligence may increase unemployment, but the rise in productivity will be higher in comparison to the unemployment rate.
Cuban believes that the technology sector is a big play in the current market scenario. If the President Donald Trump's tax restructuring plan and business deregulations are implemented sooner, we could see further upside in the market.
In the next part of this series, we'll analyze Mark Cuban's view on the economy.