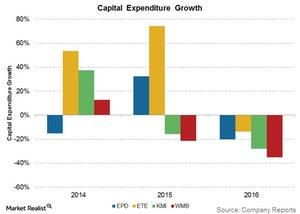 KMI, WMB Expect Higher Capital Spending in 2017
Capital spending
Most of the midstream companies suspended or postponed their capital projects in response to market demand over the last few years. Capital expenditures (or capex) for Energy Transfer Equity (ETE), Williams Companies (WMB), Enterprise Products Partners (EPD), and Kinder Morgan (KMI) in 1Q17 were lower than in 1Q16. EPD's 1Q17 capex was 54% lower than in 1Q16.
As the graph above shows, all four companies slashed their capex in 2016 compared to 2015.
Article continues below advertisement
KMI, WMB expect to increase capital spending
Kinder Morgan expects to invest $3.2 billion in growth projects in 2017. This is nearly 15% higher than its 2016 capital spending. Williams Companies' capital expenditures are expected to increase nearly 20% to $2.1 billion–$2.8 billion in 2017.
Enterprise Products Partners plans to spend ~$2.7 billion–$3.0 billion in growth capital projects and nearly $250 million in maintenance capital in 2017. That's flat compared to its 2016 capex.
On the other hand, Energy Transfer Equity's capex is expected to be nearly half in 2017 compared to 2016.
Let's compare the debt position of ETE, EPD, KMI, and WMB in the next part of this series.