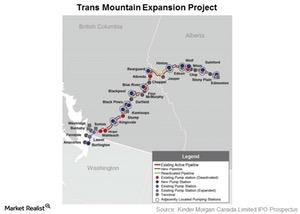 KMI Launches Canada IPO Amid Political Uncertainty in BC
KMI's Trans Mountain expansion project
On May 25, 2017, Kinder Morgan (KMI), through its subsidiary Kinder Morgan Canada Limited, launched a planned IPO (initial public offering) of 102.9 million restricted voting shares at $17 Canadian dollars per share. The company intends to raise $1.75 billion Canadian dollars through the offering to partially fund its Trans Mountain expansion project.
Kinder Morgan Canada Limited will own nearly 30% interest in Kinder Morgan's Canadian business, including the Trans Mountain project, with the remaining 70% owned by Kinder Morgan.
Kinder Morgan announced that it will make the final investment decision on the Trans Mountain expansion project "conditioned on the successful completion of the IPO." The company expects the IPO to complete by May 31, 2017.
Article continues below advertisement
Political uncertainty in British Columbia
The ruling Liberal Party in British Columbia, which supports the Trans Mountain expansion project, did not win a majority in recent elections. This means the party have to get support from the Green Party, which is not in favor of the KMI project, to form a government.
In the second likely scenario, the other major party—the New Democrats—will form a government with the support of the Green Party. This could be the worst case scenario for KMI as the New Democrats, similar to the Green Party, are not in favor of the Trans Mountain expansion project.
The Green Party's support could thus ultimately decide the government's direction. A Green Party spokesperson said the party will announce its decision in one week.
In announcing the final investment decision on the Trans Mountain project, Kinder Morgan said that while the "political climate was not ideal," it will be moving ahead as the "Trans Mountain Expansion Project financing contingency period, as specified in shipper agreements, concludes at the end of May."