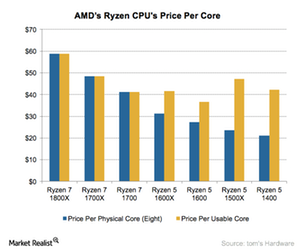 Is AMD's Ryzen Product Mix Targeted at Higher Margins?
By Puja Tayal

Updated
Different Ryzen CPUs, same architecture
Earlier, we saw that Advanced Micro Devices (AMD) plans to launch three series of Ryzen CPUs (central processing unit): the high-end, eight-core Ryzen 7, the mid-end, six-core Ryzen 5, and the low-end, four-core Ryzen 3.
An article on the website Tom's Hardware stated that all three Ryzen series employ the same eight-core design. The company merely disables the cores to offer product segmentation. This makes the manufacturing cost of a $499 Ryzen 7 1800X similar to the cost of a $169 Ryzen 5 1400.
Article continues below advertisement
Pricing impact
According to the analysis by Tom's Hardware, AMD charges $58.75 per physical core for its high-end Ryzen 7 1800X and only $31.25 per physical core for the Ryzen 5 1600X, which has two cores disabled. As the core design is the same for all CPUs, AMD loses a profit of $27.50 per physical core with every Ryzen 5 1600X purchase.
It's very important for AMD to get a favorable product mix of high-margin and low-margin products in order to make its Computing and Graphics segment profitable.
Unlocked multipliers make non-X models more attractive
However, unlocked multipliers in all AMD processors don't seem to support a favorable product mix. Many reviewers, including Tom's Hardware, suggest that users purchase the less expensive non-X models such as the Ryzen 7 1700 instead of the more expensive X models, as both have similar overclocking. These recommendations saw Ryzen 7 1700 becoming AMD's most popular Ryzen processor on Amazon's (AMZN) Best Sellers list.
Intel (INTC) doesn't offer unlocked multipliers in its lower-margin products in order to prevent its lower-end products from eating up the sales of its higher-end products, thereby maintaining healthy product segmentation.
Unhealthy Ryzen product mix could hit AMD's profits
AMD's product mix is getting skewed toward lower-margin models instead of higher margin models, which could hurt the company's overall margins. It seems that the company is looking to correct its product mix by offering discounts on the X models. According to the Tom's Hardware article, Amazon is selling the $499 Ryzen 7 1800X at a discounted price of between $470 and $465, and Newegg is selling the $399 Ryzen 7 1700X at a discounted price of $374.
The discounted price is higher than the $329 price tag for the Ryzen 7 1700. With these discounts, AMD could be looking to encourage enthusiasts to buy the X models.
As AMD uses the same design, it has little pricing flexibility for its lower-end products, making it vulnerable to any price cuts by Intel. However, Intel hasn't revealed any plans for price cuts so far.
Next, we'll look at the performance of AMD's Radeon RX 500 series graphics cards.