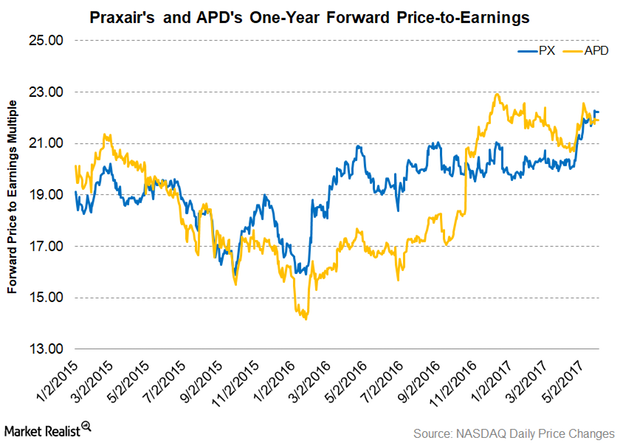 Inside Praxair: The Latest Valuations
Praxair's forward PE
The forward PE (price-to-earnings) multiple is a relative valuation metric that takes into account a company's future earnings in its calculation. On May 26, 2017, Praxair (PX) was trading at a one-year forward PE multiple of 22.20x, as compared to Air Products and Chemicals' (APD) one-year forward PE multiple of 21.9x.
The forward PE ratio indicates how much investors are paying per dollar of expected earnings over the next 12 months. Using the PE ratio, investors can compare two or more companies operating in the same industry and decide which stock is overvalued or undervalued.
Article continues below advertisement
Praxair trades at a marginal premium
Praxair's better-than-expected 1Q17 adjusted EPS (earnings per share) of $1.37 and Praxair's upward revision of the lower end of its fiscal 2017 adjusted EPS to be in the range of $5.55–$5.80, as compared to its earlier guidance $5.45–$5.80, indicates the future growth in its business. In 2017, Praxair has already won several new long-term businesses with Dow Chemical (DOW) and other companies located in the US Golf Coast.
In the meantime, the introduction of new products is expected to drive growth, and the possible merger between Lynde and Praxair could make Praxair the number one player in the industrial gases space. This would ensure the kind of global expansion that could drive revenue growth and earnings from cost saving synergies. To be sure, Praxair's growth opportunities appear to be looking good to many, which has likely helped the stock trade at a premium to peers.
Notably, investors can hold Praxair indirectly by investing in the iShares Global Materials ETF (MXI), which had 2.1% of its total holdings in PX on May 26. The top holdings of MXI include DuPont (DD) and Monsanto (MON), which have weights of 3.7% and 2.8%, respectively.