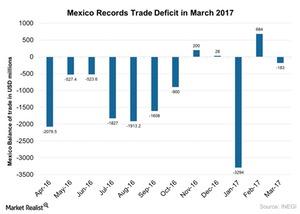 Inside Mexico's Rising Trade Deficit in March 2017
By Mary Sadler

Updated
Mexico's trade balance
Mexico (EWW) recorded a modest trade deficit in March 2017, as compared to its trade surplus in the previous month. Over the years, Mexico has embraced free trade, entering into trade deals around the world.
Article continues below advertisement
Trade deficit in March 2017
Mexico (EWW) recorded a trade deficit of $183 million in March 2017, as compared to its $87.2 million trade surplus recorded in March 2016. This deficit is the highest one in March that Mexico has seen in a decade.
Imports grew slightly faster than exports this March, and exports grew 14.1% YoY (year-over-year) to $35.93 billion, as compared to imports of about $36.11 billion—a YoY increase of 15%.
Exports to the US
Mexico's exports to the US (SPY) rose 11.8%, making up for more than 80% of its total non-oil shipments. Auto exports (CARZ) grew by 17.7%, making up more than 27% of total non-oil shipments. Mexico depends heavily on its exports, as 35% of its GDP came from export revenues in 2015. The US is Mexico's largest trading partner, accounting for about 81% of its exports.
Notably, Mexico reported a trade surplus with the US of around $63 billion in 2016, and in the first two months in 2017, the surplus was $9.7 billion. President Donald Trump has been critical of NAFTA (North American Free Trade Agreement), however, and on several occasions, Trump has voiced concerns about US companies moving production abroad and then exporting goods back to the US (QQQ), impacting the US trade balance.
The US auto and industrial sectors (IYJ), in particular, rely heavily on free trade with Canada and Mexico to build, assemble, and sell products. For this reason, a renegotiation of NAFTA will likely be on the table for the Trump administration in 2017, with an eye toward overcoming what Trump perceives as unfair trade imbalances.
Continue to the next part for a look at Mexico's GDP growth amid uncertain US policy decisions.