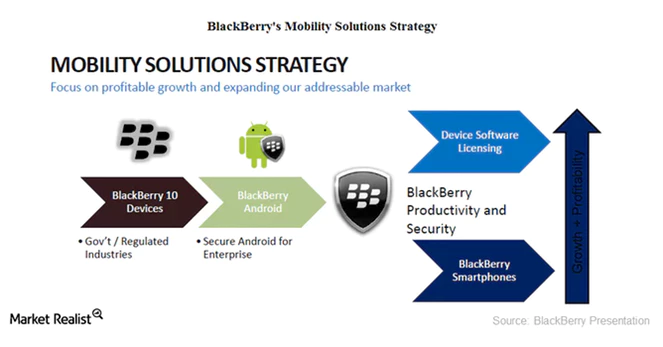 Inside BlackBerry's Ongoing Rise in 2017
By Adam Rogers

Nov. 20 2020, Updated 3:26 p.m. ET
Shares rose 9.4% last week
Shares of Canadian technology (QQQ) firm BlackBerry (BBRY) rose 9.4% last week (ended May 19) to close at $10.38. The shares rose after WannaCry's ransomware attack last week infected several PCs (personal computers) and other devices. BlackBerry stated that it has the expertise to identify system loopholes and prevent such viruses and cyberattacks in the future.
In its corporate blog, BlackBerry stated: "BlackBerry Cybersecurity Services now offers a Ransomware Readiness Assessment, helping your organization review its current security posture with an emphasis on the capability to withstand a ransomware attack."
Article continues below advertisement
Can BlackBerry successfully pivot from the handset business?
BlackBerry (BBRY) now has three primary business segments: Software and Services, Mobility Solutions, and Service Access Fees. BlackBerry is optimistic about revenue growth in the software and services space, driven by the strong performances of its Enterprise Mobility, QNX, and Price Management Software segments.
BlackBerry is also looking to enhance its product portfolio and target vehicle security in the IoT (Internet of Things) segment.
BlackBerry aims to expand its secure Android software to various verticals and devices, including tablets, medical appliances and devices, wearables, and other smartphones. With the growth of the Internet and connected devices, BlackBerry appears to have an excellent opportunity to secure various devices and penetrate a growing market over the next few years.