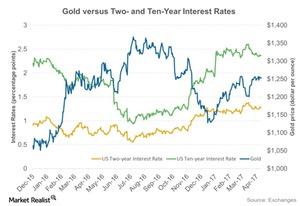 Implications of Fed Decisions on Precious Metals and the Dollar
By Meera Shawn

Dec. 4 2020, Updated 10:42 a.m. ET
The dollar and a rate hike
The Federal Reserve meeting on Thursday, May 25, 2017, caused a weakness in the US dollar since the Fed seemed more cautious on interest rate hikes in the coming months. The primary concern is slowing economic growth in the country. If the Fed considers this temporary, then there could be more chance of a rate hike.
A rate hike and the dollar are closely tied to each other since a higher interest rate would mean more money flowing into the United States, which would scale the US dollar. A higher dollar, on the other hand, is negative for gold. Gold can also be depressed by increasing interest rates.
Article continues below advertisement
Miners and funds
The above graph shows the fluctuations in gold compared to the US two-year and ten-year interest rate (IEF) (SHY). The higher rate of interest means investors would be more likely to park their money in yield-bearing assets rather than gold and silver, which don't pay any intermediary cash flows.
According to Federal fund futures, traders believe there is an 83.0% probability that the Fed will raise rates by a quarter of a percentage point at its next meeting.
The rise in the rate of interest would also negatively impact precious metal funds such as the SPDR Gold Shares (GLD) and the iShares Silver Trust (SLV). These two fell on Thursday, May 25, 2017, by 0.11% and 0.31%, respectively, despite the rise in their metals.
Mining shares that also closely follow precious metals include Barrick Gold (ABX), Newmont Mining (NEM), Kinross Gold (KGC), and Eldorado Gold (EGO).