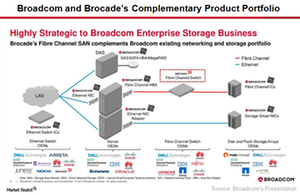 How's the Broadcom-Brocade Deal Progressing?
By Puja Tayal

Updated
Broadcom's M&A strategy
Broadcom (AVGO) has reduced the seasonal impact on its earnings by diversifying its product portfolio through acquisitions. Broadcom has stayed active in the M&A (mergers and acquisitions) space by constantly buying smaller companies.
The company made its biggest merger of Avago-Broadcom in 2015 when the semiconductor industry was consolidating. Broadcom acquires companies that offer complementary technologies and a strong market share. Brocade Communications Systems (BRCD) fits the bill, as it dominates the fiber channel SAN (storage area network) switching market with a 70% share.
Article continues below advertisement
Overview of Broadcom-Brocade deal
In early 2017, Broadcom announced its acquisition of Brocade for $5.9 billion in order to expand its networking storage business.
Brocade supplies switches and cards for FC-SAN (fiber channel storage area network) and Internet protocol (or IP) technologies. This ensures the secure and reliable transfer of data between servers and storage equipment through fiber optic cables.
On the other hand, Broadcom offers fiber channel HBAs (host bus adapter) that are used in several devices ranging from mobiles to servers. There's no product overlap as the two companies supply complementary products. Many analysts warned that the merger could attract regulatory scrutiny as it would give Broadcom a monopolistic position in the fiber channel hardware market.
Broadcom is in the process of securing regulatory approvals for the acquisition.
Broadcom secures conditional approval from European Commission
The Broadcom-Brocade deal was scrutinized by the European Commission (VGK), which raised concerns regarding interoperability and the misuse of competitors' confidential information. However, the Commission approved the deal subject to certain conditions.
Article continues below advertisement
Chips for FC-SAN and IP
The Commission's investigation concluded that the merged company's product portfolio wouldn't harm the competition. However, it raised concerns that the merger would give Broadcom access to confidential information from competitors that the merged company could use to favor its own products.
Broadcom pledged to protect the confidentiality of the competing products by creating Chinese walls between the technical, product development, and marketing teams of competing devices.
Switches and cards for FC-SAN 
The merger would give Broadcom the ability to bundle the two companies' complementary FC-SAN switches and HBA cards. The Commission's investigation concluded that the company could degrade the interoperability between its FC switches and competitors' HBA cards in order to promote its bundled offering.
To address this concern, Broadcom has pledged to work with HBA card competitors and match their interoperability levels with that of its own HBA cards.
Broadcom is close to securing all the necessary approvals and completing its acquisition in 3Q17. The company has also signed an agreement with ARRIS to sell Brocade's network edge business and with Extreme Networks to sell Brocade's data center switching, routing, and analytics business.
Next, we'll look at the other acquisitions Broadcom is eyeing.