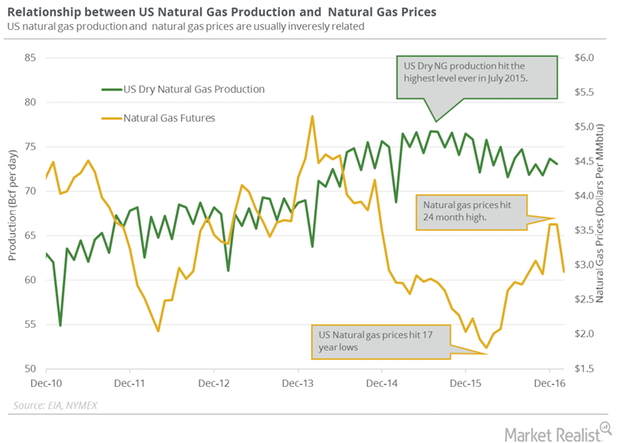 How Weekly US Natural Gas Production Trended in Early May
Weekly US natural gas production 
Market data provider PointLogic reported that weekly US dry natural gas production rose 0.3% to 70 Bcf (billion cubic feet) per day between April 27 and May 3, 2017. Production fell 3.2% compared to the corresponding period in 2016.
The fall in production is bullish for natural gas (GASL) (BOIL) (DGAZ) prices. Higher natural gas prices have a positive impact on the earnings of natural gas producers like Newfield Exploration (NFX), Memorial Resource Development (MRD), Southwestern Energy (SWN), and EQT (EQT). For more on natural gas prices, read part one and part two of this series.
Article continues below advertisement
Peaks and lows 
The U.S. Energy Information Administration estimates that monthly US dry natural gas production peaked at 76.8 Bcf per day in July 2015, the highest level ever. In contrast, production hit 71.5 Bcf per day in June 2016, the lowest natural gas output figure since June 2014.
US natural gas output fell due to weak natural gas and crude oil (USO) (UCO) (VDE) prices in early 2016. For more on US natural gas drilling activity, read the previous part of this series.
EIA's natural gas production estimates 
The EIA estimates that US dry natural gas production will average 73.1 and 77.1 Bcf per day in 2017 and 2018, respectively. Production averaged 74.1 Bcf per day and 72.3 Bcf per day in 2015 and 2016, respectively. In 2016, production fell for the first time since 2005.
Impact of rising natural gas production