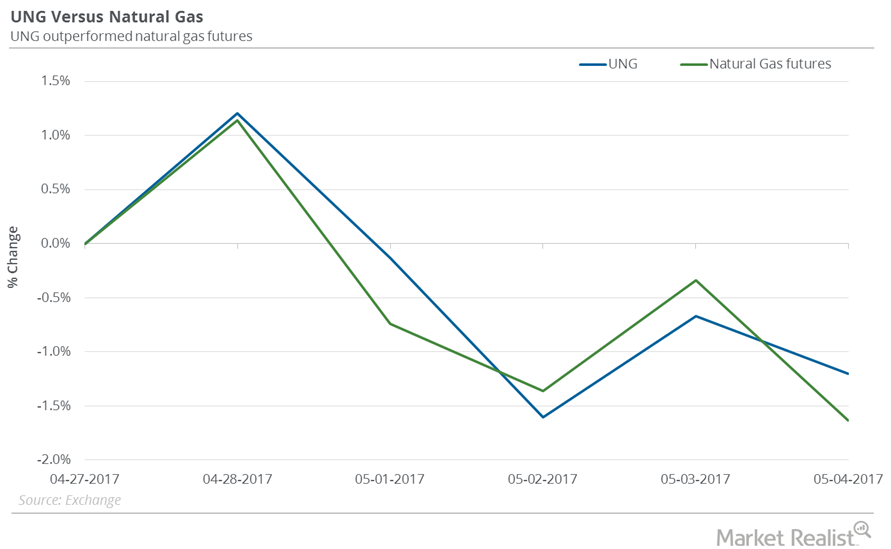 How UNG Looks Relative to Natural Gas Futures
By Rabindra Samanta

Nov. 20 2020, Updated 1:58 p.m. ET
UNG's performance
From April 27 to May 4, 2017, the United States Natural Gas ETF (UNG), which tracks active natural gas futures, fell 1.2%. Natural gas futures fell 1.6% during the same period. Last week, UNG outperformed natural gas active futures.
Article continues below advertisement
Inventory data
UNG ended May 4, 2017, with a drop of ~0.50%, while natural gas futures fell 1.3%. On that day, the EIA (U.S. Energy Information Administration) announced that natural gas (GASX) inventories rose 67 Bcf (billion cubic feet) in the week ended April 28, 2017. 
A Wall Street Journal survey estimated a rise of 58 Bcf. Bearish inventory data contributed to the losses in natural gas prices.
How well does UNG track natural gas futures?
On March 3, 2016, natural gas active futures hit a 17-year low. Natural gas active futures rose 94.3% from March 3, 2016, to May 4, 2017. During that period, UNG rose ~27.6%.
From June 20, 2014, to May 4, 2017, natural gas active futures fell 29.7%, while UNG fell ~70.8%. The nearly two-year downturn in crude oil prices started on June 20, 2014. Crude oil can impact the sentiment in the entire energy sector.
The above numbers show UNG's lower returns compared to the returns of natural gas active futures. The lower returns were due to the small losses UNG suffered when rolling its exposure to active natural gas futures from expiring futures.
Active futures traded at higher prices than expiring futures contracts in the fund. Due to this contango structure in the natural gas futures market, UNG has underperformed natural gas in the last few years.
Investors should keep this scenario in mind when using UNG to play longer-term moves in natural gas prices. On May 4, 2017, natural gas futures contracts out to August 2017 traded at progressively higher prices.
Natural gas exposure
In addition to the United States Crude Oil ETF (USO), which tracks crude oil futures, and the energy equity ETFs we looked at in the previous part of this series, you might want to look at the following ETFs and ETNs to play natural gas prices:
In the next part, we'll see how oil is affecting Wall Street.