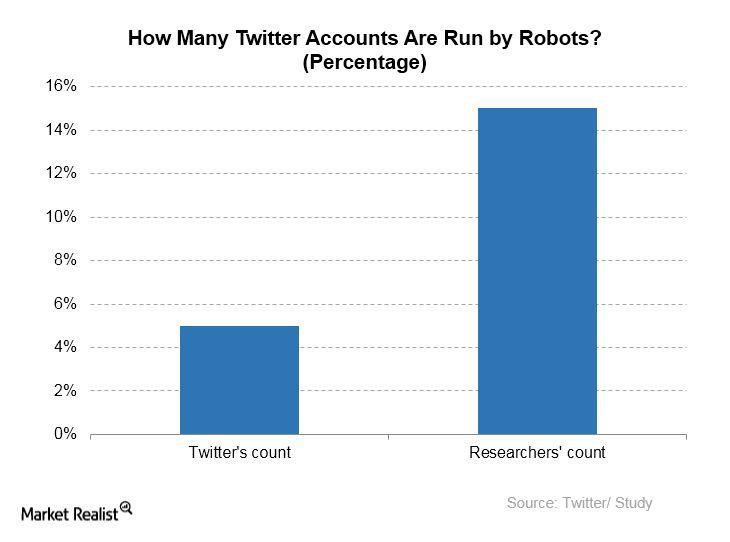 How Twitter Plans to Counter Fake Accounts
By Neha Gupta

May. 18 2017, Updated 10:36 a.m. ET
Automated Twitter accounts
Twitter (TWTR) added ~9 million new monthly users in 1Q17, but how many of them are robots? Bot, or spam, accounts are a thorny issue for Twitter because they tarnish its reputation. 
The company recently decided to address the matter, and it largely disputed findings of independent surveys that tens of millions of existing Twitter accounts are not operated by real people. Instead, they are run by automated computer programs.
Article continues below advertisement
15% of accounts claimed to be fake
While researchers at the University of Southern California and the University of Indiana reported that up to 15% of Twitter accounts are run by bots rather than humans, Twitter puts the count at fewer than 5% in its latest report. 
An earlier report stated that about 8.5% of accounts were suspected to be automated. If the researchers' claim is true, then it would mean that about 50 million out of the 328 million monthly users Twitter recently reported aren't real people.
Useful bots versus spam bots
Although Twitter admits that bots operate accounts on its platform, it tries to draw a line between bots that are making a positive contribution to the platform and those that are spam-related. Its figure of fewer than 5% bot accounts refers to automated spam accounts, not the useful ones. Useful bots are utilized by companies to automate their customer support activities.
Impact on advertiser attraction