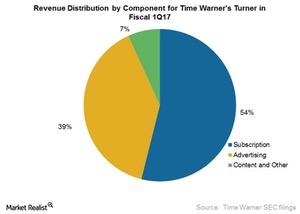 How Time Warner Expects Its Advertising Market to Shape Up
By Shirley Pelts

Dec. 4 2020, Updated 10:50 a.m. ET
Time Warner's view of the domestic advertising market
Time Warner (TWX) stated at its fiscal 1Q17 earnings call that while the news genre continues to be popular among advertisers in fiscal 2Q17, there has been a moderation in advertising compared to fiscal 2Q16. Time Warner further said that it believes advertisers are following a more wait-and-watch approach due to uncertainty in the US (SPY) economy.
The company also said that fewer companies in the technology, automobile, and pharmaceutical sectors have had new product launches this year. That could have prompted the slowdown in advertising.
Time Warner said that while the sports genre continues to be a fragmented advertising market, the current political climate is more likely to benefit its news networks in terms of advertising.
Article continues below advertisement
Reduction in advertising load
Time Warner (TWX) reduced its ad loads ~50.0% for some of its television programs on Turner's TNT Network. The company said the reduction saw its viewership rise for these shows, leading to an increase in brand recall, improved targeted advertising, and higher customer satisfaction. The company stated at its fiscal 1Q17 earnings call that in the future, it expects all its original programming on TNT to have reduced advertising. That has encouraged Time Warner to continue experimenting with the reduction in advertising loads over time.
As the above graph indicates, advertising comprised 39.0% of Time Warner's Turner revenues of $3.0 billion in fiscal 1Q17, with advertising revenues of $1.2 billion.