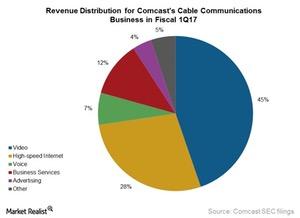 How the FCC's Possible Rollback of Net Neutrality Could Affect Comcast
By Shirley Pelts

Updated
FCC could rollback net neutrality rules
On May 18, Ars Technica reported that the FCC had voted 2-1 in favor of doing away with net neutrality rules and its classification under Title II of the Communications Act. According to the report, the FCC's NPRM[1. Notice of Proposed Rulemaking] seeks to eliminate the Title II classification of net neutrality and is seeking comments on what should replace these regulations.
The classification of broadband as a utility service in Title II of the Communications Act has meant that broadband providers like Comcast (CMCSA) and AT&T (T) cannot block, slow down, or even speed up Internet traffic for any legal applications, devices, services, or content.
Comcast was asked its opinion regarding the possible rollback of net neutrality regulations at its fiscal 1Q17 earnings call. The company stated that it was "encouraged" by the FCC's process of looking at the classification of net neutrality under Title II of the Communications Act.
Article continues below advertisement
Comcast could stand to benefit from net neutrality rollback
Comcast reiterated its stand that although it supported net neutrality, it didn't favor its classification under Title II of the Communications Act. A rollback in net neutrality rules under President Trump could bode well for Comcast. As a result, Comcast wouldn't have to worry about third-party claims from streaming services for damages due to slowing down Internet traffic.
It could also result in Comcast promoting its IP[1. Internet protocol] streaming service, Stream, on its broadband network. There is also the possibility that Comcast could charge streaming services like Netflix (NFLX) a higher interconnection fee, which could boost Comcast's revenues.
However, Comcast's senior executive vice president and chief diversity officer, David L.Cohen, stated in a blog post that the company "will not block, slow down, or discriminate against lawful content."
A core growth driver of Comcast's Cable Communications division in 1Q17 was its High-Speed Internet segment. This segment comprised 28% of Comcast Cable's total revenues of $12.9 billion as shown in the chart above.
Comcast makes up 0.89% of the SPDR S&P 500 ETF (SPY), which has 4.2% exposure to the Computers sector.