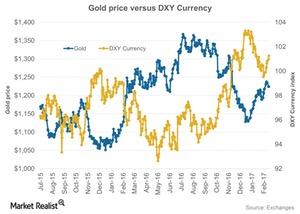 How the Dollar Is Following Silver's Fall
By Meera Shawn

Updated
Dollar down
As we've learned, silver has been exceptionally weak over the past month. Though the market sentiment has been a major driver of this weakness, there have also been a few fundamentals playing on silver's returns.
Fewer haven bids and speculation surrounding rises in the US interest rate are among the important indicators that have contributed to plummeting silver prices.
One important factor that usually works against precious metals but walked hand-in-hand with them this time was the US dollar. Any rise or fall in the dollar plays substantially on precious metals, as precious metals are dollar-denominated assets. The higher the US dollar, the more expensive it is for investors from other countries to buy dollar-based assets such as gold (GLD) and silver (DBS).
Similarly, as the dollar tumbles, the demand for the dollar and dollar-denominated assets resurfaces.
Article continues below advertisement
The U.S. Dollar Index (or DXY), which prices the US dollar against a basket of six major world currencies, has fallen almost 3% year-to-date. During 1Q17, the fall in the dollar (UUP) gave some buoyancy to silver, but lately, the dollar and silver have followed the same downward path. The withdrawal of haven bids likely resulted in both the US dollar and precious metals tumbling.
US dollar correlation
The correlation between silver and the US dollar is -0.03%, suggesting that we can expect a fall or rise in the dollar to bring about a rise or fall in silver only ~3% of the time—as good as no correlation at all.
Mining companies that have also suffered due to tumbling precious metals include First Majestic Silver (AG), Alamos Gold (AGI), Kinross Gold (KGC), and Coeur Mining (CDE).