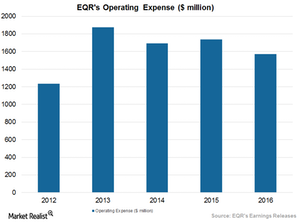 How Rising Interest Rates Could Affect Equity Residential
By Jennifer Mathews

Aug. 18 2020, Updated 5:27 a.m. ET
Interest rates move northward
The Federal Reserve raised its interest rates for the second time in the four-month period ended March 31, 2017. The widely anticipated move saw the benchmark federal funds rate rise 0.25% to a range of 0.75%–1.0%.
The rising interest rates increase the interest expenses of real estate investment trusts (or REITs), impacting their operating expenses negatively. The chart below shows how Equity Residential's operating expenses have varied in the last five years.
Article continues below advertisement
More rate hikes in the cards?
The Fed indicated that it could implement two more rate hikes in 2017. The market speculates that one of the rate hikes could occur in June, and the other one is expected to occur around December 2017. The FOMC plans to move close to its targeted rate of 2% with these phased increases.
How do rate hikes affect residential apartment owners?
The hawkish interest rate environment has added to the woes of apartment owners as it could decrease the affordability of future home buyers. This can be seen from the latest data of mortgage application released by the Mortgage Bankers Association (or MBA). MBA Builder Applications Survey data for April 2017 indicates that mortgage applications for new home purchases have fallen 4.3% year-over-year. The number of applications plunged 20% when compared to March 2017.
Apartment owners finance the construction of real estate via the purchase of mortgage-backed securities and mortgages. Mortgage REITs like Equity Residential (EQR) utilize equity and debt capital to fund their investments. Volatility in mortgage rates can impact their profits as these REITs garner their profits from the margin between the cost of their operations and interest income.
Amid rising interest rates, investors have parked their investments in less-risky bonds that offer similar yields to those of REITs, triggering a sell-off in their stocks.
However, rising interest rates can be favorable for REITs when an economy is growing. This year could reveal whether the interest rate hike is a blessing in disguise for REITs like Equity Residential, AvalonBay Communities (AVB), GGP Inc. (GGP), and Macerich (MAC).
Equity Residential forms ~2.9% of the Vanguard REIT ETF (VNQ).