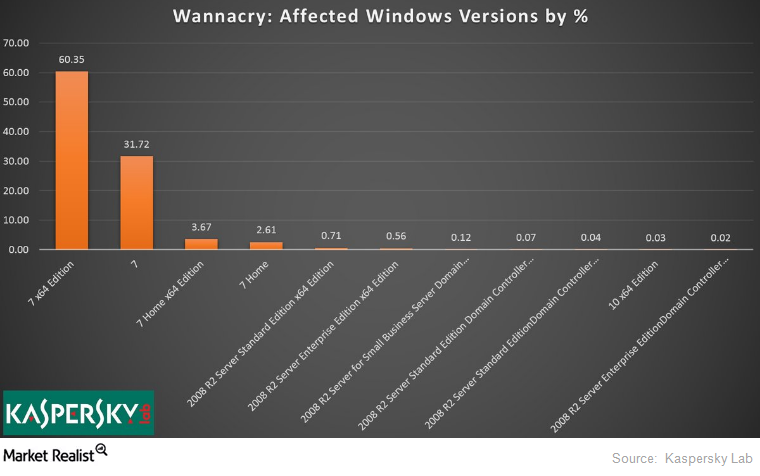 How Microsoft's Buyout of Hexadite Aligns with Its Cloud Strategy
By Anne Shields

Nov. 20 2020, Updated 4:08 p.m. ET
Microsoft's focus on cybersecurity
Previously in this series, we discussed Microsoft's (MSFT) acquisition of Hexadite. In January 2017, Microsoft committed to invest more than $1 billion annually in cybersecurity R&D in the future. However, this plan did not include acquisitions.
The chart below shows the results of cybersecurity and antivirus firm Kaspersky Lab's recent report on the WannaCry cyberattack. The report revealed that 98% of the affected systems were running Windows 7.
Article continues below advertisement
Microsoft's strategy to protect its expanding ecosystem
Microsoft Windows is currently the most widely used operating system in PCs. Microsoft Azure, the company's cloud platform, is behind only Amazon's (AMZN) AWS,[1. Amazon Web Services] the undisputed leader of the overall cloud space. Many industry analysts believe that Azure is posing stiff competition to Amazon.
Microsoft's Office 365 productivity suite is a key growth driver for the company's Productivity and Business Processes segment. This segment comprises the cloud version of Office, Office 365, and the traditional version of Office.
This ecosystem—WindowsAzure and Office 365—needs protection from threats and malware attacks. To offer cohesive protection, Satya Nadella, Microsoft's CEO, formulated the One Windows strategy, which aims at the installation of the same OS and Windows Store across multiple platforms.
Windows Defender Application Guard
Microsoft recently announced Windows Defender Application Guard. Yusuf Mehdi, Microsoft's corporate vice president of the Windows and Devices group, noted that this product makes "Microsoft Edge the most secure browser for the enterprise."
Microsoft must depend on other companies' security offerings to protect its ecosystem. This explains why Microsoft adopted the acquisition route to scale up in the cybersecurity space. The tech giant also has set aside a substantial portion of its R&D to be solely focused on the cybersecurity space.
As Microsoft continues to increase its position in the cloud space, we believe that its spending and investment on cybersecurity offerings and acquisitions could increase.