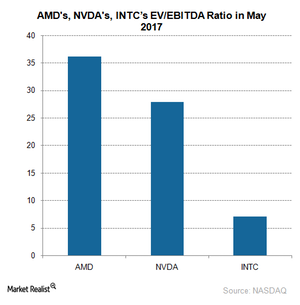 How Is AMD Valued in Relation to Its Cash Earnings?
Valuation
In the previous part of the series, we saw that Advanced Micro Devices' (AMD) stock price is highly sensitive to news. Investors have inflated their earnings expectations for the company.
In such a scenario, the best way to understand a company's value is by comparing it with its normalized earnings, as investors like to know if a company is operating profitably.
Article continues below advertisement
WACC
AMD has leverage to the tune of $1.4 billion, compared to its cash reserves of $943 million. This ratio reflects a net debt of $467 million as of the end of 1Q17. The company secured its debt at a higher cost because of its poor credit rating.
AMD's WACC (weighted average cost of capital) is 11.61 as of May 2017—higher than Intel's (INTC) 10.64 even though Intel has a high net debt of $8.2 billion. NVIDIA (NVDA) has an even lower WACC of 8.43.
Enterprise value
The equity price of a company alone doesn't determine its value, as an acquirer would also have to take up the company's debt. Hence, EV (enterprise value) measures the price a buyer would have to pay to acquire a company. EV is the sum of market capitalization, net debt, preferred stock, and minority interest.
AMD had an EV of $10.9 billion, whereas NVIDIA and Intel had EVs of $71.2 billion and $176.5 billion, respectively, on May 11, 2017.
EV-to-EBITDA 
As AMD has a weaker capital structure than its peers, a good way to calculate its value is through EV-to-EBITDA. EBITDA (earnings before interest, tax, depreciation, and amortization) removes the effects of a company's accounting and financial decisions and government taxation decisions and measures its earnings from operations.
EV normalizes the differences in a company's capital structure, enabling a fair comparison of the returns a company delivers.
AMD has an estimated EV-to-EBITDA ratio of 36.21x, whereas Intel and NVIDIA have estimated EV-to-EBITDA ratios of 7.14x and 28.03x, respectively. AMD has a higher EV-to-EBITDA because it has a low EBITDA compared to its peers.
Overall, AMD is poised for revenue growth, but investors are waiting for the company to report some profit.