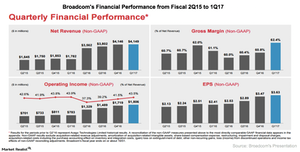 How Broadcom's Acquisition Strategy Is Affecting Its Earnings
By Puja Tayal

Updated
The world's largest fabless semiconductor company
Broadcom (AVGO) has been in the news for its major acquisitions year after year. These acquisitions have broadened the company's portfolio, making it the world's largest communications semiconductor company.
In 1Q17, the company overtook Qualcomm (QCOM) to become the world's largest fabless semiconductor company by revenue, according to data from TrendForce.
Article continues below advertisement
Broadcom's portfolio mitigates seasonalities
Broadcom designs, develops, and supplies chips to the wired infrastructure, wireless communications, enterprise storage, and industrial markets. Its portfolio is largely focused on digital and mixed signal CMOS-based (complementary metal oxide semiconductor) devices and analog III-V–based products.
The company's broad and more diversified portfolio has started to show results by reducing the seasonal impact of the wireless segment on overall revenue. The effects of this may be visible in its upcoming 2Q17 earnings. The quarter is usually a weak season for the company's Wireless segment as holiday sales fade away.
Broadcom's M&A strategy
Broadcom's growth strategy largely revolves around M&As (mergers and acquisitions). It's currently in the midst of another acquisition of Brocade Communications Systems (BRCD), which it plans to complete in 3Q17. There are several media reports of Broadcom being one of the top bidders for Toshiba's (TOSBF) NAND (negative-AND) Flash business.
The above acquisition report comes as a surprise, as Broadcom has huge leverage. However, the merger synergies and improving profit margins have raised investors' optimism, sending the stock up 57% in the last 12 months.
At a time when the entire semiconductor industry is eyeing the IoT (Internet of Things), AI (artificial intelligence), 5G (fifth-generation), and self-driving cars spaces, Broadcom has no plans to enter these markets at present.
On its 1Q17 earnings call, Broadcom's CEO, Hock Tan, stated that the company may enter the connected world in the future, probably by acquiring some other company at the peak of the revolution.
In this series, we'll look at the status of Broadcom's ongoing and upcoming M&As and the impact of its earlier M&As on its earnings.