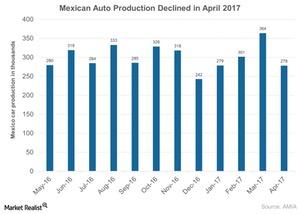 How Auto Production in Mexico Is Trending amid Trade Fears
By Mary Sadler

Nov. 20 2020, Updated 1:40 p.m. ET
Heavy reliance on auto manufacturing
US (SPY) (QQQ) trade with Mexico (EWW) is currently under the Trump administration's radar. President Trump wants to get auto industry (CARZ) jobs back to the US, which is a significant concern for Mexico. The Mexican auto industry accounted for about 1.9% of GDP in 2001. This share rose to 3.4% in 2015, according to the Mexican Statistical Institute (INEGI). The graph below shows Mexican auto production over the last year.
Article continues below advertisement
Auto production in 1Q17
Mexico's auto production rose 3.2% to 278.2 thousand vehicles in April 2017 as compared to April 2016 but decreased as compared to March 2017. March saw record production of 363.7 thousand vehicles, a jump of about 36.2% as compared to the previous month.
Mexican auto exports also went up to 228.8 thousand vehicles, a 16.1% increase in April 2017 as compared to the corresponding period last year. Sales to the US were up nearly 20% to reach 179.96 thousand units in April 2017. In the first four months of 2017, Mexico produced 1.2 million vehicles and exported 978.97 thousand units. Car production in Mexico has averaged about 187.32 thousand units between 1999 to 2017.
Economic impact
The heavy reliance of Mexico on the US may have repercussions on Mexico's trade balance. The Mexican auto industry exports represent about 32% of non-oil exports as of 2016. As oil prices fall, dependence on non-oil exports could increase. Thus, Mexico could be more dependent on auto exports, which form a significant part of its total non-oil exports.
Protectionist policies in the US are likely to impact the highly integrated value chains between the US and Mexico. Some large US companies like Fiat Chrysler Automobiles (FCAU), Ford Motor (F), and General Motors (GM) could be negatively affected by protectionist policies.
Let's look at the inflationary trend in Mexico over the last year in the next article.