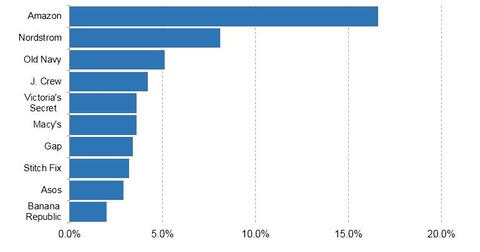 How Amazon Could Wring $62 Billion from the Fashion Market
By Neha Gupta

Updated
Leveraging technology to overcome barriers
Though Americans spend hundreds of billions of dollars every year on apparel, the bulk of fashion purchases take place offline because people still like to touch and try on clothes before making purchases.
For online retailers such as Amazon (AMZN), this means limited profits from apparel spending. Can technology help Amazon break that barrier?
Amazon seems to have a powerful tool in Echo Look to bolster its fortunes in the fashion market. Echo Look is a version of Amazon's line of Echo-branded smart speakers. The company introduced the device in April 2017 and has positioned it as an artificial stylist. With Echo Look, Amazon is hoping to solve apparel shoppers' pains by making the experience of buying clothes on the Internet more natural, with personalized recommendations and the ability to virtually assess outfits.
Article continues below advertisement
Amazon winning the hearts of young apparel shoppers
Echo Look could also place Amazon firmly on the path to dominate the US (SPY) apparel industry. The company is already a favorite of Millennials who buy clothes online. A recent study by Slice Intelligence revealed that Amazon takes 16.6% of all online apparel spending by shoppers in the range of 18–34 years. In contrast, its closest rival, Nordstrom (JWN), sees only 8.1% of these young shoppers' clothing budgets.
Macy's (M) and The Gap (GPS) account for 3.6% and 3.4% of Millennials' online apparel spending, respectively.
 $62 billion in fashion revenue
As Amazon continues to leverage technology to overcome barriers that have long kept people away from buying clothes on the Internet, research company Cowen says the company's apparel revenue could reach $62.0 billion by 2021, compared to $22.0 billion in 2016.