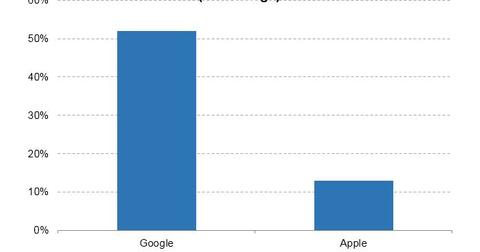 How Alphabet Is Faring in the Education Sector
By Neha Gupta

Updated
A $252 billion revenue market
Global education technology (or EdTech) is a huge market estimated to be worth $252.0 billion by 2020, according to EdTechXGlobal. The opportunity in this market is even greater if you consider that only 2.0% of the $5.0 trillion global education market is digitized. Alphabet (GOOGL), Apple (AAPL), and Microsoft (MSFT) are among the major tech companies chasing EdTech dollars. 
In a recent survey of teachers and education administrators, Alphabet's Google emerged as the most preferred EdTech provider. The study by the Education Week Research Center and EdWeek Market Brief sought to gauge the perception of educators regarding Google, Amazon (AMZN), Apple, and Microsoft as vendors of school technologies.
Article continues below advertisement
52% of educators would work with Google
The findings showed that 52% of educators preferred working with Google to supply technology for improving student achievement. That percentage compared with 13% who said they would prefer working with Apple.
Chromebooks most widely used classroom device
As for education tools provided by schools, Google's Chromebooks emerged as the most widely used in the classroom, with 42.4% of teachers favoring it. In comparison, 14.8% of teachers cited PC laptops and 12.8% cited PC desktops. Only 12.7% of teachers said the iPad was the most frequently used device in their classrooms.
Usability and affordability giving Google an edge
Why is Google favored as the provider of EdTech? Schools perceive Google products as being easy to use and more affordable.
For investors, the EdWeek findings offer a glimpse of opportunities available for Google outside the advertising industry. Google reported non-advertising revenues of ~$3.4 billion in 1Q17, up from ~$2.3 billion in 1Q16.