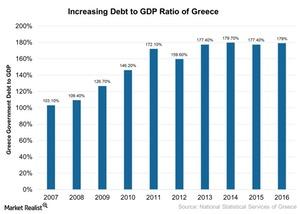 Greek Bailout: Debt Sustainability or Economic Recovery?
By Mary Sadler

Updated
Greece's 2017 bailout
Greece (GREK) and its international creditors recently reached a preliminary deal for a crucial bailout payment in 2017. In return for the bailout, Greece's government is expected to support its debt burden (BND) by carrying out additional reforms to raise taxes and further cut pension and social spending.
Between early and mid-July 2015, the Greek government, some Eurozone countries (EZU), and the IMF (International Monetary Fund) negotiated an agreement to keep Greece part of the European Union (VGK) (IEV). The agreement included an extension of a third financial assistance package and required additional reforms in Greece.
Article continues below advertisement
The yields on two-year and ten-year bonds surged in 1Q17 as anxiety subsided over a debt default and a Grexit and expectations of another bailout package in 2017. The deal is expected to increase Greece's debt burden, which is about 300.0 billion euros as of 2016. In the graph below, you can see Greece's debt-to-GDP ratio over the last few years.
Use of bailout funds
Greece's Minister of Finance Euclid Tsakalotos is hoping to see a final deal approved by the May 22, 2017, meeting of the Eurozone finance ministers. The debt is expected to service a tranche of maturing loans amounting to 7.0 billion euros in July 2017. The bailout money will mostly pay off Greece's international loans rather than help its economic recovery.
The Greek government still has a staggering debt load, as you can see in the above graph. Greece's (GREK) debt-to-GDP ratio stands at a perilous 179.0% as of 2016. Economic recovery is crucial in order for Greece to start offloading its debt.
The bailout money is also expected to buy Greece additional time to stabilize its finances and subdue market fears of an exit from the European Union (FEZ) (EZU). The bailout money has, to some extent, helped Greece reduce its fiscal deficit since the onset of the 2008 financial crisis. However, Greece's economic problems continue to persist. The Greek economy has contracted about 25.0% in the last six years, and a quarter of the nation is still unemployed.
Next, let's look at Greece's GDP growth over the last few years amid the financial crisis.