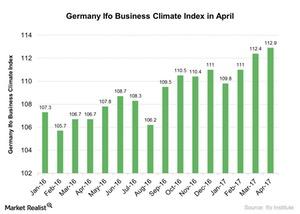 Germany Ifo Business Climate Index Sees Continuous Rise
Germany Ifo Business Climate Index in April
Germany's Ifo Business Climate Index strengthened to 112.9 in April 2017 compared to 112.4 in March 2017. The figure was above the market expectation of 112.5. The index measures entrepreneurs' sentiments about the current business climate and expectations for the next six months. April's reading was the highest since July 2011.
Article continues below advertisement
Why the index showed a stronger performance in April
The confidence of wholesalers, constructors, and retailers improved in April compared to March. However, manufacturers' sentiment fell during the month.
Business activity and domestic and international demand improved during the month. However, the negotiations have started for the United Kingdom's exit from the European Union (EZU) (HEDJ) (VGK). Many policymakers are expecting that the Brexit will have negative effects on the global economy, which could affect investor sentiment.
Investor sentiment reached panic levels in July 2016, as investors expected trade flows to fall between the United Kingdom (EWU) and Germany (EWG). Germany is one of the United Kingdom's largest trade partners. Investors expect Brexit to affect trade flows between the United Kingdom and all the major economies of the Eurozone.
However, the gradual improvement in the business climate index is indicating that investors' confidence in the economy is improving. Businesses are also experiencing strong demand, which could boost their profitability.
In the next part of this series, we'll look at the US Consumer Sentiment Index in April 2017.