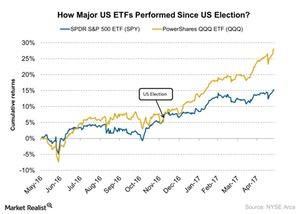 Why George Soros Lost Money during Trump Rally
By Sarah Sands

Updated
George Soros's activity in 1Q17
According to the latest 13F filing report, billionaire George Soros' short position in the S&P 500 Index (SPY) saw a loss in the first quarter. According to CNBC estimates, this loss might have totaled $1 billion.
Article continues below advertisement
After Donald Trump's win in the US (QQQ) (IWM) presidential election, George Soros became bearish on the US stock market (VFINX) (IVV). He was concerned about President Donald Trump's proposed policy changes. According to Soros, Trump's proposed trade policies could hamper global trade, which wouldn't be good for markets.
Market performance in 1Q17
However, the market showed a different picture in the first quarter. The S&P 500 Index returned nearly 4.5% in 1Q17. Since the US election, the index has returned nearly 11.6% as of May 26, 2017. The improvement in various economic data such as manufacturing PMI, service PMI, consumer confidence, inflation, sales growth, and business climate index helped the S&P 500 Index to rise.
The optimistic view on the US economy and Donald Trump's proposed policy changes have primarily driven investment sentiment. The first quarter earnings growth also showed a strong recovery. Morgan Stanley's (MS) chief equity strategist, Mike Wilson, is optimistic on the bull market. He believes the S&P 500 could touch the 2,700 level in the next 12 months.
In the next part of this series, we'll analyze George Soros' position in the iShares Russell 2000 ETF.