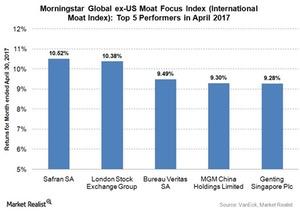 International Moat Index: France Impacted Its Performance
By VanEck

May. 31 2017, Published 10:48 a.m. ET
VanEck
International Moats: Merci Beaucoup
French aerospace firm Safran SA (SAF FP, +10.52%) edged out London Stock Exchange Group Plc (LSE LN, +10.38%) as the top International Moat Index performer in April. SAF FP also saw its fair value estimate increased by Morningstar analysts at the end of the month. The top sector performers for the month came from real estate and industrials firms. Several Hong Kong property firms helped boost the real estate sector including Swire Properties Ltd. (1972 HK, +6.78%) and Cheung Kong Property Holdings Ltd. (1113 HK, +6.51%).
Article continues below advertisement
While France was the top contributing country to International Moat Index returns, companies in Canada and India were the most significant detractors. Baytex Energy Corp. (BTE CN, -11.27%), an oil & gas exploration & production company focused on Western Canada and the Williston Basin in the U.S., was the worst performing company in the International Moat Index in April.
Market Realist
France's contribution in April
US domestic moats and international moats outperformed the broader benchmark index year-to-date. However, the international moat index, represented by the Morningstar Global ex-US Moat Focus Index (MOTI) (TTM), lagged slightly behind the benchmark index in April.
French-based aerospace and defense company Safran SA rose 10.5% in April. It rose the most among the other constituents. Safran shares started rising after the company released a statement on January 19 about a subsequent merger of Safran and Zodiac—an aerospace equipment company. The two companies agreed to a deal of 29.47 euros per Zodiac share, which valued the company at 9.7 billion euros including debt. Since then, the shares have risen 19% as of April 30, 2017.
Article continues below advertisement
Safran's better-than-expected 1Q17 results boosted the stock in April. The company's revenue grew 5.2% due to its commercial and military engines service business. Production for the LEAP engine also ramped up and added to the company's strong revenues. Driven by a strong first quarter, the company maintained its outlook for a 2%–4% rise in sales this year.
Other top performers in April        
Other constituent stocks that drove the index's performance belonged to the service industry—mainly Bureau Veritas SA. Resorts and casino businesses like MGM China Holdings Limited and Genting Singapore also had some positive returns.
Real estate companies in Hong Kong contributed to the index's performance. Many property stocks in the international moat index had some fruitful gains in April due to higher property prices. Demand rose due to developers' generous financing plans. Swire Properties and Cheung Kong Property Holdings rose 6.7% and 6.5% in April.
Detractors in the international moat index
Among the constituents of the international moat index, Calgary-based oil and gas company Baytex Energy (BTE) posted the lowest returns of -11.2% in April. Other detractors in April belonged to the technology industry which included Australia-based telecommunications and information services company Telstra Corporation Limited and India-based Infosys Limited (INFY) and Tata Consultancy Services Limited. Despite a few detractors, moat indices provide a competitive advantage in creating long-term value for shareholders and higher returns for investors.