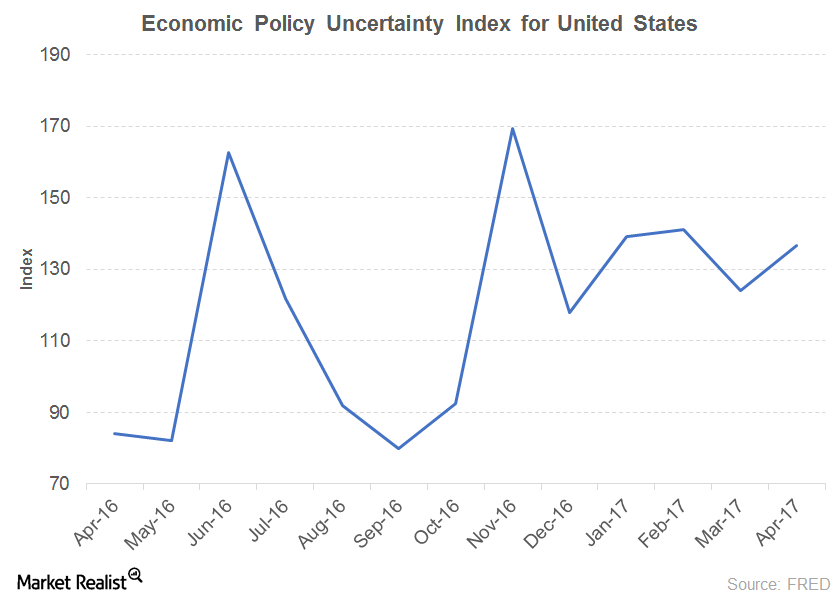 Can Fallen Angel Bonds Continue to Perform amid Uncertainties?
By VanEck

May. 18 2017, Published 11:16 a.m. ET
VanEck
Fallen angel high yield bonds were up 4.8% year to date through April 30, outperforming the broader high yield bond market which rose 3.9%.[1.Source of all data unless otherwise noted: FactSet. Data as of March 31, 2017. Fallen angels are high yield corporate bonds that are originally issued with investment grade credit ratings, and are represented by the BofA Merrill Lynch US Fallen Angel High Yield Index (H0FA Index). The broad high yield bond market is represented by BofA Merrill Lynch US High Yield Index (H0A0 Index).] (This follows 2016's strong performance which we wrote about in Fallen Angels Close 2016 on Cloud Nine.) Optimism over potential tax reform has helped spreads tighten recently, and they may have room to narrow further should some of the Trump administration's reform efforts play out.
There is, however, uncertainty surrounding the administration's ability to get its tax reform proposal passed, and geopolitical events could stir up broad market volatility.
Market Realist
Fallen angel bond performance
Fallen angel high yield bonds (ANGL) have beaten US investment-grade bonds (AGG), US high-yield bonds (HYG), emerging market bonds (EMB), international corporate bonds (IHY), and gold (GLD) in their one-, three-, and five-year annualized total returns.
The safer US treasury bonds (TLT), municipal bonds (MUB), international treasury bonds (BWX), and gold have generated negative one-year annualized returns, as you can see in the price movement chart.
Even though the economic policy uncertainty index for the US has dipped 19% since the election results in November 2016, we've already witnessed resistance to President Trump's policies in response to the GOP's new health care bill.
Article continues below advertisement
Though markets have been calm so far, 2017 has been rife with potential ingredients and volatility. The stakes rest on Trump's foreign policies, which are American-centric. He has also continuously talked about trade embargoes, especially with China (FXI) (MCHI), Mexico (EWW), and the European Union.
In the remainder of 2017, we'll also see a series of elections in the Eurozone, China, Russia, and Argentina. And any kind of friction with North Korea will be tied up in the US relationship with China as well.
Meanwhile, North Korea is on the verge of beefing up its intercontinental ballistic missile capability, which is stirring up concerns in the US. Concerns also loom on the oil export-dependent Middle East over US shale production versus that of OPEC (Organization of the Petroleum Exporting Countries). Cyberattacks are becoming a global hot-button issue as well, while tension continues to brew between Pakistan and India.
The tightening credit spread
However, Trump has promised to cut corporate and personal taxes, and a tax on the repatriation of profits has the potential of tightening the credit spreads. You can see in the chart above how credit spreads have already dipped since November 2016—purely in anticipation.