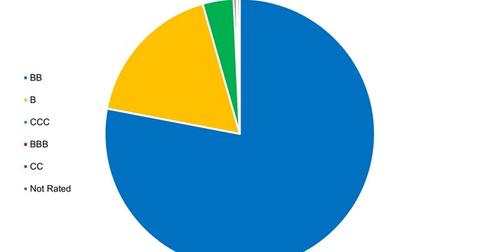 Why Fallen Angel Bonds Outperformed Other High-Yield Bonds
By VanEck

Updated
VanEck
KEMMERER: Speaking of the construction, I have heard this strategy referred to as a "smart beta" strategy. How do you apply the smart beta mindset to fixed income?
RODILOSSO: Smart beta is such a funny term, and not everyone loves it. At VanEck we try to think in terms of choosing indexes that, one are replicable and investable, but also we are also looking for more intelligent ways to approach markets. Some people apply a very strict definition of smart beta. The irony of fallen angels is it is actually market cap weighted but it's a subset of the broad high yield universe, and those fallen angel bonds tend to have some different characteristics and the Index tends to have different characteristics from a weighting point of view. I think we take a smart approach at VanEck, and Ed actually came up with the idea of launching an ETF around fallen angels. He had been looking for new ideas and that is the sort of the process we follow at VanEck, looking at what is out there, and in this case, trying to improve on the high yield space. Fallen angels are a way of keeping the smart beta approach simple. This is the other thing we think about at VanEck, is the investment strategy explainable? Is it simple? And what might make our thesis work.
Article continues below advertisement
LOPEZ: I think one of the brilliant things about the fallen angel strategy is its simplicity, as Fran mentioned. Basically it embodies what good investing is and the way an investor would approach investing in any market. That is to identify quality and to buy it at a good price. Fallen angel bonds, because they were once investment grade, tend to be large companies with a brand name and for whatever reason they have been downgraded. Fallen angels as a whole tend to be primarily BB rated, so they are at the higher rung of the high yield space. This is a really interesting aspect of the story to me, which was the higher quality high yield and with that valuation component to it. It offers what I think good investing is intended to do, by identifying quality at a good price.
The above graph shows the credit quality distribution of the VanEck Vectors Fallen Angel ETF (ANGL). As you can see, more than three-quarters of the fund's holdings belong to BB credit quality, which is the highest credit quality for high-yield bonds. As a result, fallen angels can be a source of higher quality.
Since fallen angel bonds were given investment-grade status earlier, they typically have higher credit quality than most other speculative-grade bonds (JNK). Fallen angels can be a source of high yield and higher quality for investors.
The above graph compares the performances of fallen angel bonds with other US corporate high-yield bonds (HYG) over the last five years. The former outperformed the latter consistently over the last five years.