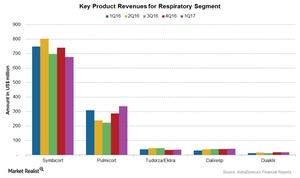 Examining the 1Q17 Performance of AZN's Respiratory Segment
By Mike Benson

Updated
Respiratory segment
AstraZeneca's (AZN) Respiratory segment is one its key growth platforms. The segment reported nearly flat revenue of $1.2 billion at constant exchange rates in 1Q17. 
The products included in this segment are Symbicort, Pulmicort, Daliresp, Tudorza, and Duaklir.
Article continues below advertisement
Symbicort
Symbicort is a drug used for the prevention of bronchospasm. Symbicort's revenue fell 8% at constant exchange rates to $677 million in 1Q17. At constant exchange rates, it reported a 21% fall in US sales and a 9% fall in European sales, partially offset by a 10% rise in emerging market sales.
Some of the drugs that compete with Symbicort are Merck & Co.'s (MRK) Foradil, GlaxoSmithKline's (GSK) Advair, and Boehringer Ingelheim's Spiriva.
Pulmicort
Pulmicort, a drug for the prevention of the asthma attacks, reported a revenue rise of 14% at constant exchange rates to $337 million in 1Q17. This rise was driven by a 28% rise in emerging market revenue and an 11% rise in revenue from rest of the world. The rise was substantially offset by lower sales in US and European markets.
Other drugs
Other drugs in AZN's Respiratory segment include Daliresp, Tudorza/Eklira, and Duaklir. Eklira and Duaklir were added to AstraZeneca's portfolio following its deal with Almirall. AstraZeneca acquired Tudorza and Daliresp from Allergan (AGN).
Daliresp reported a revenue rise of 42% to $44 million in 1Q17, while Tudorza/Eklira reported a 3% revenue fall to $37 million in 1Q17. The drug Duaklir reported a 54% revenue rise in 1Q17 to $19 million due to strong growth in European markets.
To divest risk, investors can consider ETFs such as the Vanguard Total International Stock ETF (VXUS), which holds 0.4% of its total assets in AstraZeneca.