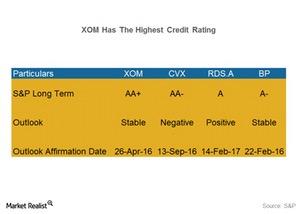 Evaluating Integrated Energy Companies' Credit Ratings
By Maitali Ramkumar

Updated
Integrated energy companies' credit ratings
In this article, we'll compare the credit ratings of integrated energy companies. We'll look at the Standard & Poor's (or S&P) long-term credit ratings for leading integrated energy companies ExxonMobil (XOM), Chevron (CVX), Royal Dutch Shell (RDS.A), and BP (BP).
Article continues below advertisement
Current ratings
ExxonMobil has the best long-term credit rating of AA+ with a stable outlook, which means that its rating won't change. ExxonMobil had an AAA rating for almost 15 years, but it was affected by the meltdown in oil prices over the past few years. Until April 26, 2016, ExxonMobil was the only integrated energy company to hold this valuable AAA rating.
Next in line is Chevron with an AA- credit rating and a negative outlook. Chevron's negative outlook states that its rating could be lowered. BP and Shell have lower ratings than CVX. BP has an A- rating with a stable outlook.
1Q17 earnings
XOM, CVX, RDS.A, and BP have surpassed their 1Q17 earnings estimates, which could lead to changes in their credit ratings. All four companies posted strong numbers on the back of higher oil prices in 1Q17 compared to 1Q16.
ExxonMobil's and BP's 1Q17 adjusted earnings were more than double their 1Q16 earnings. Chevron's 1Q17 adjusted EPS (earnings per share) stood much higher than its 1Q16 EPS. Royal Dutch Shell's 1Q17 EPS stood 119% higher than its 1Q16 adjusted EPS.
If you're looking for exposure to the S&P 500 Index stocks, you can consider the SPDR S&P 500 ETF (SPY). The ETF has ~6% exposure to energy sector stocks such as XOM and CVX.
Article continues below advertisement
Series outline
In this series, we'll do a fundamental cross-sectional analysis of integrated energy stocks following their 1Q17 results. In the previous series, How's the Market Treating XOM, CVX, RDS.A, BP after 1Q17? we saw how integrated energy stocks' market performances have been shaping up.
In the next couple of articles, we'll compare the leverages and cash flow positions of these integrated energy stocks. We'll also delve into their capital expenditure and dividend outflow details.
Later, we'll consider these companies' earnings models and operational performances. For this, we'll evaluate their segment-wise earnings models, upstream production mixes, refinery throughputs, and trading activities. We'll also evaluate the geographical spreads of the refined product and petrochemical markets for 1Q17.
Continue to the next article to learn about the leverage positions of these companies in 1Q17.