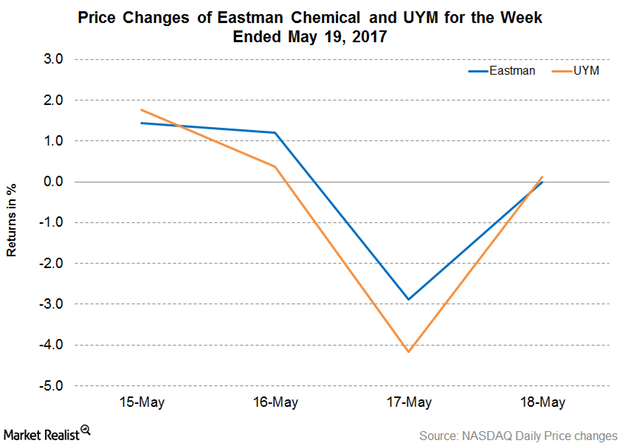 Eastman Chemical Comes Up with Treva, a New Bioplastic
Eastman Chemical introduces new product
On May 15, 2017, Eastman Chemical (EMN) introduced Treva, a breakthrough in engineering bioplastics. The new material is environmentally friendly as it is partially sourced from trees. It's also free of BPA (Bisphenol A) and phthalate. The material can be used in eyeglass frames, electronic display applications, electronics, housing, and automotive interior components, to name a few. This material has great potential to add to Eastman's revenue.
Article continues below advertisement
Burt Capel, vice president and general manager of Eastman's Specialty Plastics business unit, said, "Eastman leveraged nearly 100 years of cellulosic expertise in the design and testing of TREVA to meet the improved sustainability profile and performance needs of brands, fabricators, molders, and other companies across the value chain."
EMN stock movement for week ended May 19
For the week ended May 19, 2017, EMN closed at $78.57, a 1.4% gain for the week. EMN stock traded marginally below the 100-day moving average of $78.76. On a year-to-date basis, EMN has risen 4.5%. Its 14-day RSI (relative strength index) of 49 indicates that the stock is neither overbought nor oversold. An RSI of 70 indicates that a stock is overbought, and a score of 30 suggests that a stock is oversold. EMN's 52-week low is $62.70, and its 52-week high is $82.19.
EMN outperformed the ProShares Ultra Basic Materials (UYM), which fell 0.30% for the week ended May 19, 2017. UYM invests 1.4% of its portfolio in Eastman Chemical. The top holdings of the fund include Dow Chemical (DOW), DuPont (DD), and Monsanto (MON), which have weights of 8.2%, 8.1%, and 6.2%, respectively, as of May 19, 2017.